May 13, 2023
Spring in the Heartlands
My day began over twelve hours ago at the Denver airport. A short flight later I touched down in Kentucky, just across the Ohio River from Cincinnati. Then an hour or two of driving brought me to Hoosier Hill, Indiana's wooded high point. It was a lot of states for one Saturday.
Now I was driving through lush green fields and small towns somewhere in west/central Ohio. Destination? Bellefontaine.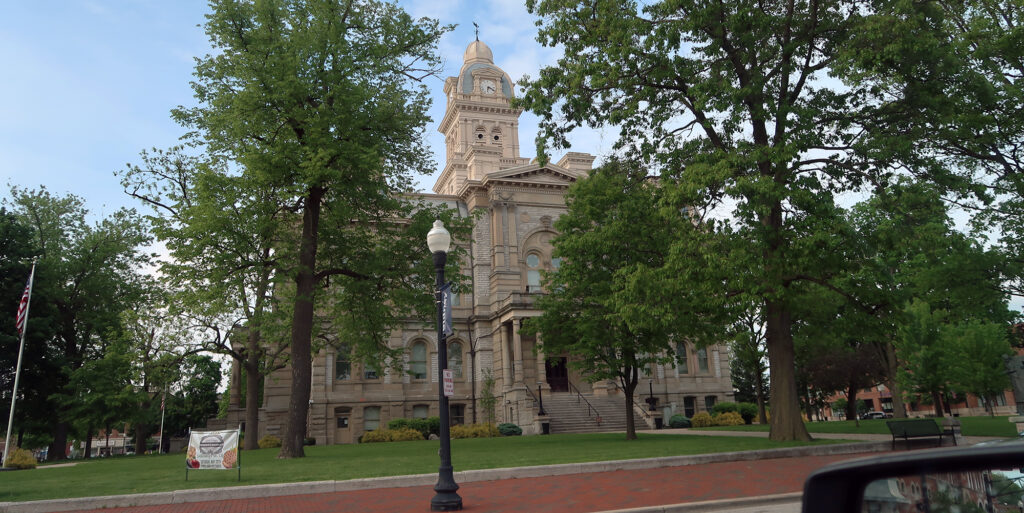 There's something incredibly arbitrary about seeking out state high points. They bring you to what feels like entirely random places. Lone Pine, California. Millinocket, Maine. Seneca Rocks, West Virginia. Would I have ever visited any of these places if they weren't adjacent to high points? Almost certainly not. But I am always glad I did. High-pointing tends to lead to more intimate and unique experiences than just visiting a state's largest city or most famous attractions.
It's only an hour and 45 minutes between Indiana and Ohio's high points. I wasn't expecting much from the drive. But it brought me through some super cute small towns. I stopped for lunch in Versailles, Ohio (pronounced Ver-SALES). The local hotel's restaurant/bar was buzzing with activity.
Weekends on-campus
Around 6 pm, I arrived in Bellefontaine. Just beyond the center of town sits the Ohio High Point Career Center. The state's highest point just happens to sit on the campus of a community college. Now, just to recap what we've learned about my idea of a fun Saturday: I flew a third of the way across the country to spend several hours driving to a deserted college campus.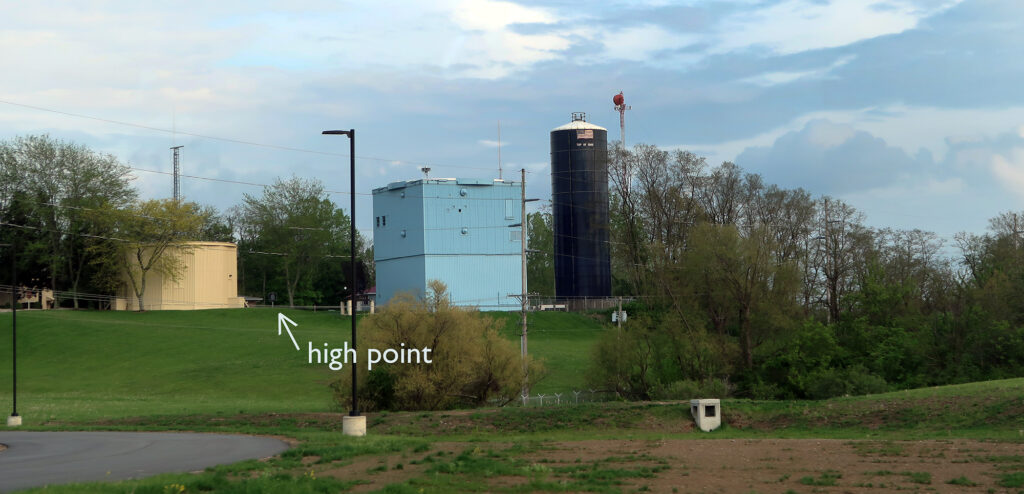 A feeling of relief flooded over me as I drove through the gates of the community college. There's a good deal of confusion surrounding when exactly these gates are open or closed. My understanding is, Monday-Saturday during reasonable hours, you can usually get in. If it's closed, there is supposedly a pedestrian gate that tends to remain open.
I drove through to the top of the hill. Unlike Indiana's high point, you can actually discern a hill here. The grass slopes up to the summit. That said, you would never realize you were standing on the state's highest point without being told. The views do not reach particularly far.
Campbell Hill
Soon I parked near the official high point. This "hike" is perhaps the shortest of all high points. You walk maybe 15 feet.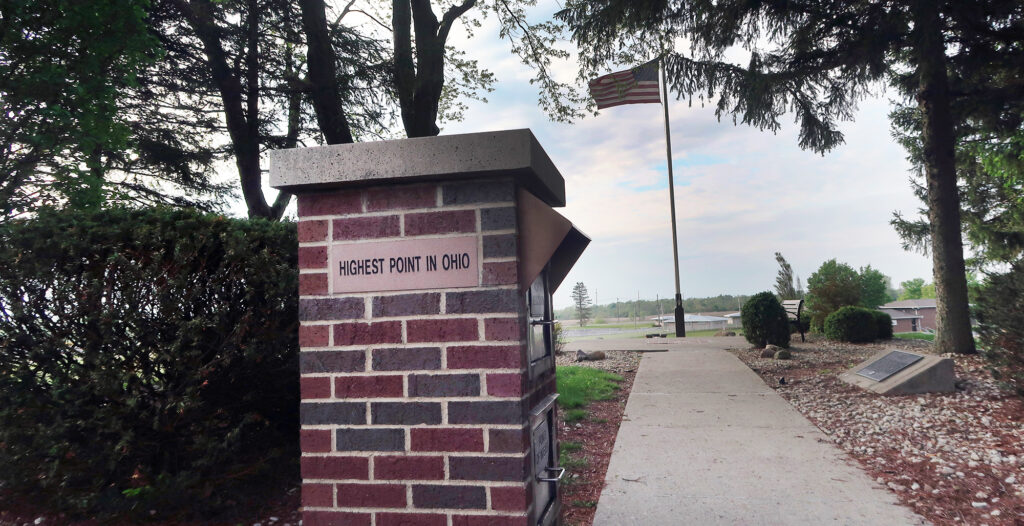 You can drive to the summit of numerous state high points. Or often quite near the summit. That doesn't necessarily make them underwhelming. The highest drivable high point is Hawaii's Mauna Kea, over 13,800′ above sea level. And those views are spectacular. That said, Campbell Hill does seem (charmingly?) underwhelming. It rises perhaps 50-100 feet above its surroundings. The views include a truck stop.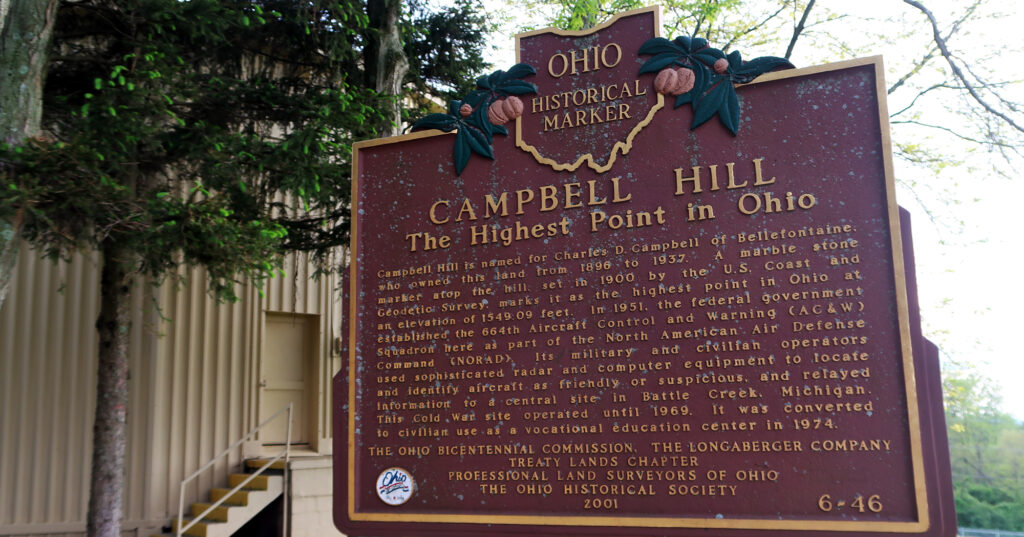 Campbell Hill's military legacy
Prior to serving as a community college, Campbell Hill hosted a small airforce presence. The buildings surrounding the high point were built by the military to support the nation's radar defense system. The site served this function throughout the 1950s and 1960s.
Sure enough, a radio dish continues to swirl about near the high point's summit. Between the dish and the tall buildings, this definitely felt like the most developed of the high points I'd visited.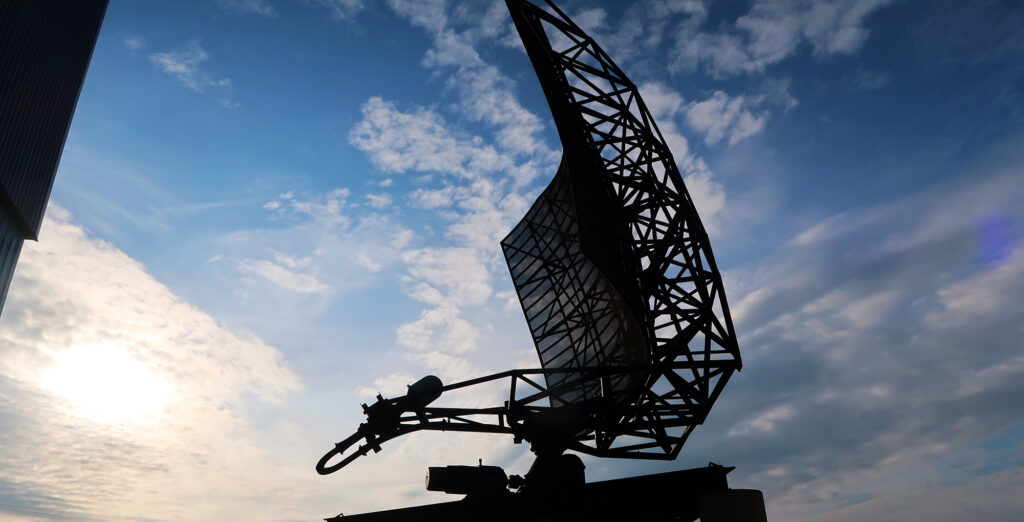 I had the place to myself for about 20 minutes, before a family arrived. Then I got back into the car and drove to Dayton for the evening. I'd have one more day in Ohio before flying further east for a work trip. I was excited to visit King's Island in the morning, and then spend Sunday evening in Cincinnati. But technically speaking, in terms of my time in Ohio, it was all downhill from here.