August 5, 2020, Whitney Portal
Fate intervened
A month before this ascent, I had zero intention of summiting Mt Whitney in 2020. Hiking Whitney requires a permit, drawn from a lottery back in March, that I did not possess as of Mid-July. I hadn't entered said lottery because in March I didn't even know I'd be living in California, let alone hiking the Sierras.
Instead, I spent July 2020 entering the Yosemite day-use lottery. Every day. With no success. Each morning at 7 am I'd refresh the page, start clicking through to reserve, and then get informed that all the tickets had sold out. It was a daily bummer.
One morning in late July, I wandered over to the Mount Whitney permit page. Every single date until October was completely sold out. Then I refreshed the page and boom: three spots on August 5th—a Wednesday—had become available. Without stopping to think or hesitate, I grabbed all three. Out of curiosity, I went back to the website several times over the next few weeks, to see how often this sort of thing happens. It never did again. Fate, it seems, had intervened.
Many Routes to Mount Whitney
There are a lot of different ways to tackle America's tallest peak outside of Alaska. Serious rock climbers prefer scaling the East Buttress. Slightly less crazy but still-masochistic types scramble up the Mountaineer's Route. For the rest of us, there's the Whitney Trail, a 100% non-technical hiking path to the 14,505′ summit. The trail starts at Whitney Portal, in the Eastern Sierras, but backpackers can also approach the summit via Sequoia National Park and the John Muir Trail, which merges with the Whitney Trail around 13,500′.
The Whitney Trail may be non-technical (when snow-free) but it's quite far from a walk in the park. The trail begins around 8,300′, meaning you ascend over 6000 vertical feet to the summit (or five Empire State Buildings). It runs roughly 11 miles each way, meaning you walk the better part of a marathon to complete the journey. And six of those miles are spent well above 13,000 feet, meaning you're spending a good fraction of this trip with severely depleted blood oxygen.
The best way to enjoy such an epic journey is therefore as an overnight. And a lot of folks do elect to camp at one or more successive "high camps" en route to the summit. But my permit for a Wednesday in early August would only allow me 24 hours to complete the journey. So camping was not an option.
A True Alpine Start
August in California is hot, and the Whitney Trail spends most of its time well above treeline. Thus I began my epic day hike about as early as legally permitted: 12:30 a.m. I had spent the prior few days working remotely from Mammoth Lakes and doing a bit of acclimatization hiking on Mammoth Mountain. Then around 10:30 p.m. on Tuesday, I left the Airbnb and drove down US-395 to Lone Pine and then up the winding road to Whitney Portal.
The Eastern Sierras form a wall of steep slopes and outright rock faces, rising thousands of feet up from the dusty flats of Owens Valley. No improved roads cross through this region of the Sierras. But occasionally, breaks in the facade permit at least partial access into the interior. Whitney Portal is a dramatic example of one of these breaks. High above the Valley, the granite walls peel back slightly, as if some mountain god was pulling apart the curtain of a stage. It looked like, quite literally, a portal to the High Sierras. The road snaked up the hillside into this portal, and soon enough I arrived at the road's terminus.
I snagged a decent parking spot in a mostly full day hiker lot. A half-dozen headlamps flashed around the car park. Many fellow hikers were likewise getting a true alpine start. I strapped on my pack, clicked on my headlamp, carried some food from my glass-encased car to a nearby metal bear box, and then started for the trailhead.
A toll collector at the trailhead
Near the trailhead, in the brush, my headlamp suddenly illuminated a bright pair of eyes staring straight at me. Was it a deer? A large dog? It began to move, and that's when I realized how massive it was. It was a black bear. And it was smack dab in the middle of the trail, staring at me expectantly. I had never had a close encounter with a bear before in the wild. It wasn't so much scary as … kind of exciting. I told the bear I didn't have any food for him. He didn't budge. Then I started shouting at the bear. Dejected, he slowly turned and shuffled off into the underbrush.
Under the moonlight
I began the ascent. There were a lot of headlamps ahead of me. It seems a whole cohort of hikers get their start around midnight. But soon enough, as we made our up the first few switchbacks, the crowd began to thin. I past a few slow groups, while some more efficient parties pulled further and further ahead. The pines began to thin out, as well. And the steep granite walls on either side of Whitney Portal grew ever higher.
By sheer dumb luck, I had began my ascent on the night of a nearly-full moon. If you have any say over when you hike Whitney, I strongly advise a night with a big, bright moon. For much of the journey, the moon lit up the bare rock surrounding the route on all sides, and I could hike sans-headlamp except for some thick brush sections.
I tried to take many photos of this lunar landscape. Sadly, my 35mm point-and-click could not do the scene justice, at least sans-tripod. One big takeaway from this trip: I need a (tiny) tripod.
The 96(?) Switchbacks
I powered up the trail at a good clip. My goal was to ascend roughly 1000 vertical feet per hour. I successfully met this goal until about 12,100′, where the infamous "96 switchbacks" begin.
I think I slowed down for many reasons. There was a serious bathroom break involved, which is always … fun … in the alpine. The altitude was starting to get to me as well. But I'd like to blame the sunrise for distracting me, briefly, from thoughts of the summit.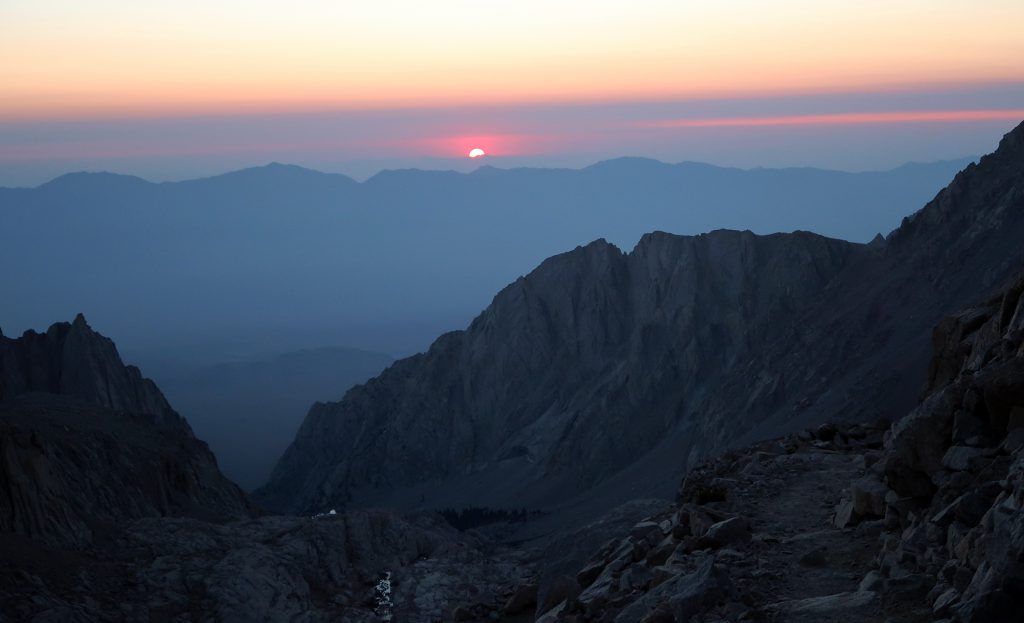 I've spent a lot of time hiking, skiing, and biking mountains. And here's the most fundamental thing I've come to learn from all that time: Humans are utterly incapable of understanding how enormous mountains are. Every single time I ascend a mountain, my brain gets tricked into thinking "it's just a short ways up there, huh?" And every time, discover, painfully, just how much farther and longer it is to the summit.
The 96 or 99 or whatever-the-hell how many switchbacks of Mount Whitney are a perfect example of this mental incapacity. Every time I looked up a set of switchbacks I thought "well that must be nearly the top." And every time I was annoyed to discover a whole new set of switchbacks above those. This didn't happen a couple of times. It happened at least a dozen times.
Trail Crest
Eventually, the switchbacks came to an end. The trail began to level off and soon I reached Trail Crest at roughly 13,600′ above sea level. A few groups of hikers had stopped here to gather strength for the final, rolling ascent along the ridgeline. Luckily for all parties involved, the sun was still quite low in the sky, and thus the trail ahead was mostly in shade.
The past 10 miles and 5000 vertical feet involves the same, progressively evolving view of Whitney's eastern slopes. Now, finally, at Trail Crest, I spotted a new, shadowy, barren martian landscape of endless mountains. This was the backcountry of Sequoia National Park. In fact, the journey to Mount Whitney pops just inside this park at Trail Crest, traveling along its eastern boundary to the summit.
Along the ridge to the summit
The trail grows a bit more uneven under foot from this point. It's a solid Class 1 (non-technical) route, to be sure. But the going is a bit less smooth. I've also read that in winter and spring ("spring" here meaning "through June"), it can be packed with snow and thus steep and icy. Crampons and ice axes are definitely recommended in these months.
This final stretch lasts about three miles. It ascends roughly 1000 vertical feet in the process. Around sea level, these stats imply a cakewalk. But a mile of vertical into my day and at 13,600+ above STP, I found the effort increasingly painful. I never developed a headache or gasped for breath. But I definitely felt increasingly exhausted.
Mount Whitney
I reached the final push to the summit, now flooded with morning sunlight. It was a straight shot up roughly 400 vertical feet to California's highest point. This was among the most painful final 400 feet I'd ever experienced. My pulse oximeter informed me my blood oxygen level was now hovering in the mid-60s (normally it's 98%). I stopped often to regain strength.
Then out of nowhere, the stone summit hut came into view. This was quite a site for sore eyes! A moment later I stood atop Mount Whitney, and touched my toe to the survey pin. Success.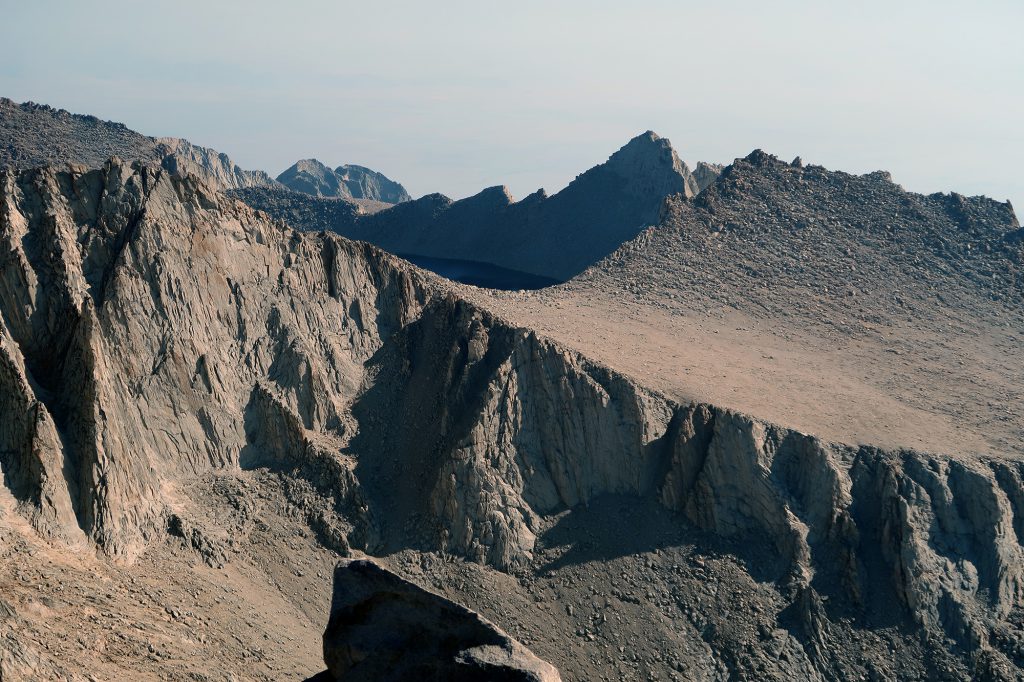 I relaxed in the sunshine atop the peak. There wasn't an ounce of wind that day, which seemed quite odd to this East Coast peak bagger. I also took a video selfie for my instagram feed, which I would later set to the tune of "I Will Always Love You" as sung by … Whitney Houston, of course!
The summit is only half the battle
Then began the long, endless descent back to where I came from. Almost immediately I felt some pain in my left ankle. My relatively new hiking boots were beginning to really aggravate some tendons down around there. I got super stressed out thinking about how the 11 miles of steep descent certainly would not help this situation.
The three miles back to Trail Crest were particularly awful. This was, by far, the most time I'd spent above 13,500 feet. The lack of oxygen really started to weigh me down. In addition to being rocky and uneven, this section also features a lot of rolling ups and downs. It was slow work, for sure.
Then the 96 switchbacks. In reverse. A dozen times I thought "this must be the last set … the valley is right there." A dozen times I was wrong.
The descent brought oxygen back into my life. And this was fantastic. But it also brought the heat. The powerful California sun baked the granite amphitheater around Trail Camp. The summit was a cool, crisp 40 Fahrenheit. But down in Lone Pine it was easily in the high 90s.
Mirages
I hadn't slept in over 36 hours. The sun beat down on me. There wasn't a tree in sight for many miles. And over 10 hours into my hike, my mind was starting to … go places. Every shadowy rock formation was maybe a tree. Every dark path of dirt was maybe a lake. At some point down the trail, I would run into a couple of friends who had come on my permit with their infant son to do a day hike in the Whitney Zone. I imagined I saw them perhaps a dozen times.
Around 10,000 feet, I cracked. I collapsed behind a somewhat large boulder and sat in a small patch of shade. I drank some water and ate some Clif bars. Then I just stared blankly for perhaps 30 minutes.
I soldiered on. Eventually, the trees really did appear. And soon after, I ran into my friends near a small lake, taking a break on their way down. We chatted for a bit under some glorious shade. Then all four of us began the final descent.
The trip seemed way less painful with company. We chatted as we went, and I managed to ignore the ankle pain and the exhaustion and the weird quasi-hallucinations. Without too much more effort we were back at the car park. Mount Whitney was in the books!