March 19, 2023
Private Property
I left my hotel around sunrise for a quick hike up Ventana Canyon. Conveniently enough, the trailhead to the Maiden Pools was in the employee parking lot of the hotel. The trailhead still hosts a good number of spots reserved for hikers. But this awkward setup provides one reason why this trail does not see heavy foot traffic.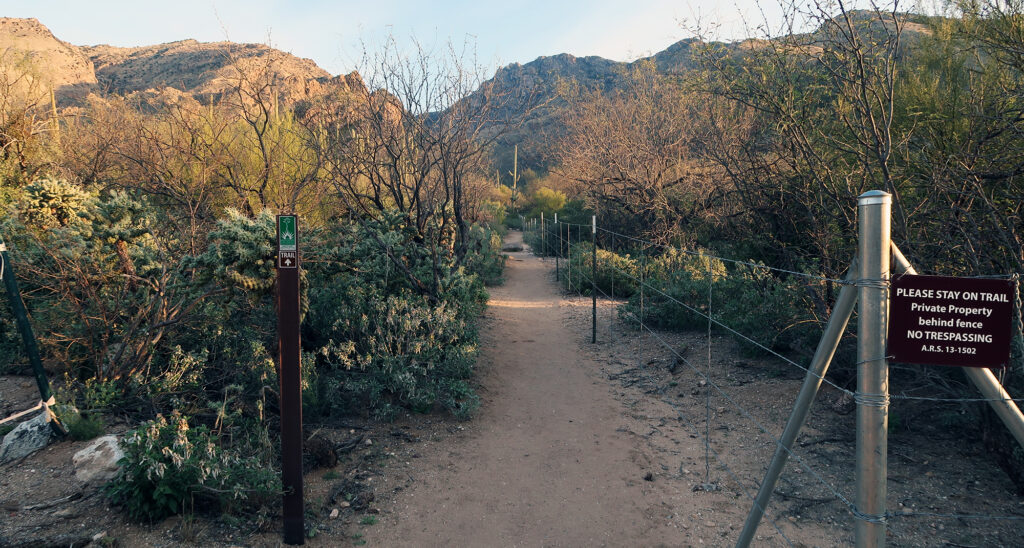 Next, I followed the dirt trail along some property fencing. Numerous signs festooned the otherwise spartan fencing: "Stay on trail!" "Private Property!" "Keep Out!" Message received.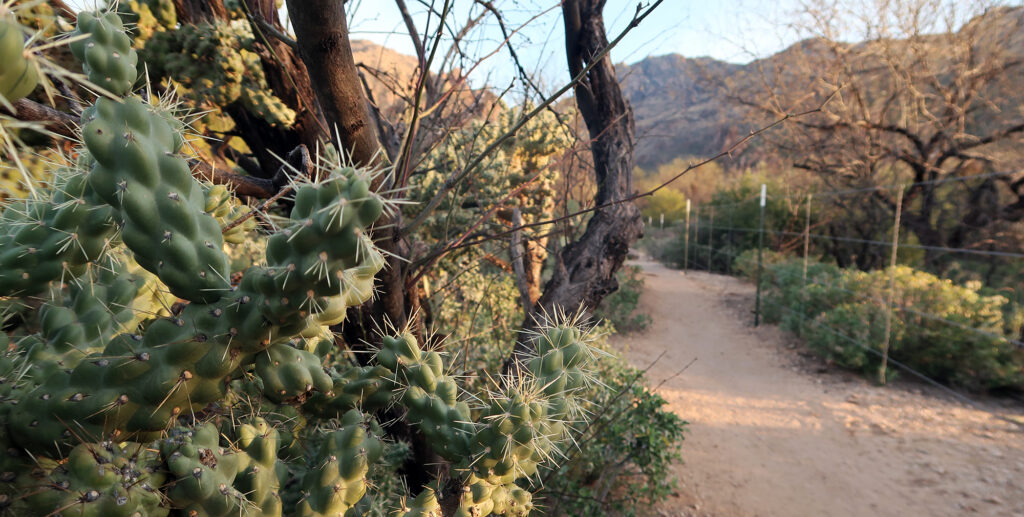 Into Ventana Canyon
Soon enough, the trail left behind upscale homes and entered the Pusch Ridge Wilderness. Ventana Canyon winds its way into the foothills of the Santa Catalina mountains. The range forms the northern boundary of Greater Tucson, with peaks rising over 8000′. This seemed like an appropriate contrast to my adventure in Saguaro National Park, the day prior, in the mountains South of Tucson.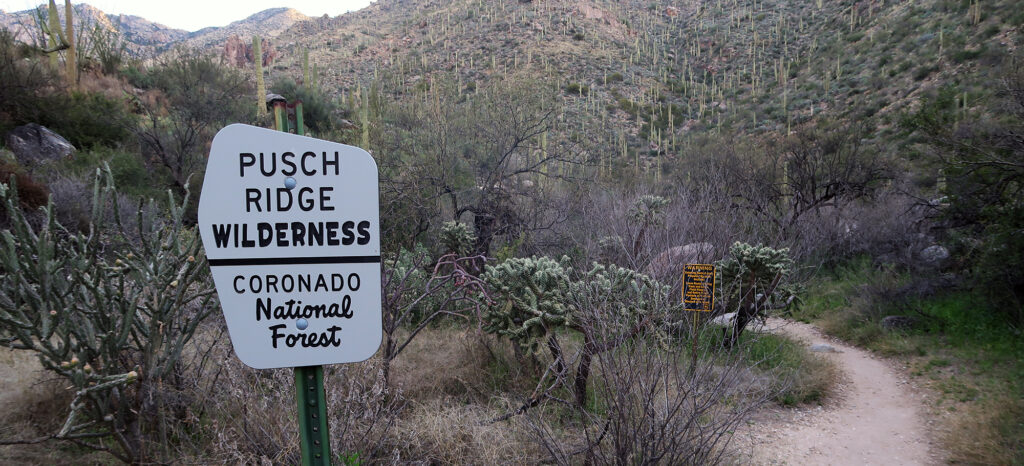 The early morning sun lit up the walls of the canyon, illuminating numerous saguaro cacti. Tucson is lousy with saguaros! Sadly, the golden light didn't last too long. The Sun soon rose into the overcast cloud cover.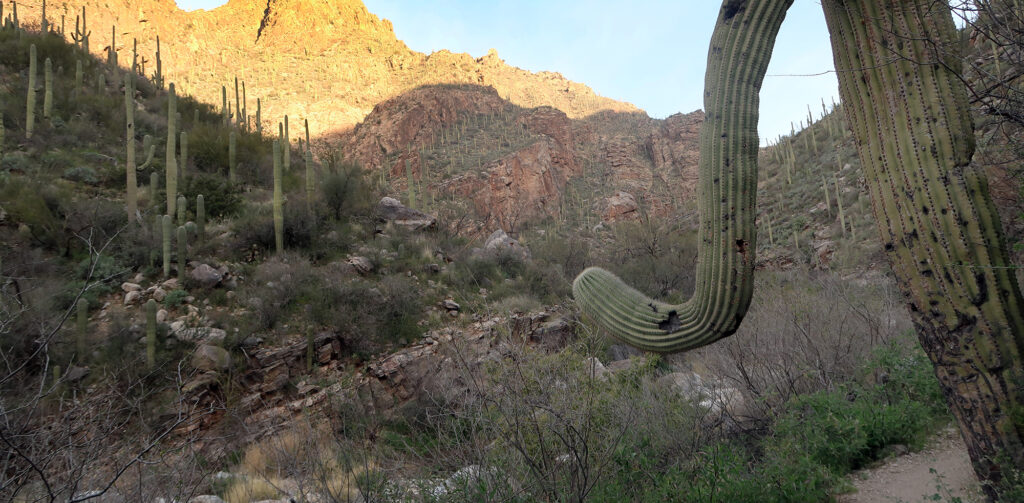 Ventana is Spanish for "window". Apparently, some split rocks near the top of this canyon form a "window" of sorts. But to me, the view of Tucson, framed by the canyon, forms the more compelling window.
Water and the riparian zone
A healthy stream babbled along the base of the canyon. Late March in Tucson is full-on spring. And this was likely about as lush as the canyon would appear this year. In a few months' time, the stream would likely appear as a dried-out wash. That said, several small pools persist into summer.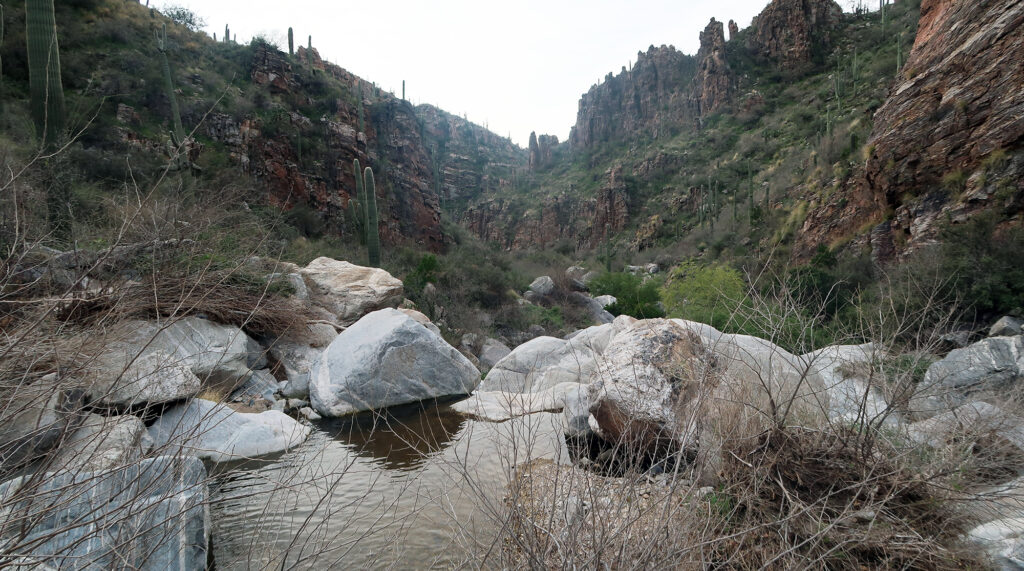 This watery "riparian zone" often forms the most ecologically productive area of a canyon. Case in point, a handful of bright green deciduous trees grew along the stream banks. These trees are nearly non-existent in such harsh desert environments (aside from manicured lawns and gardens).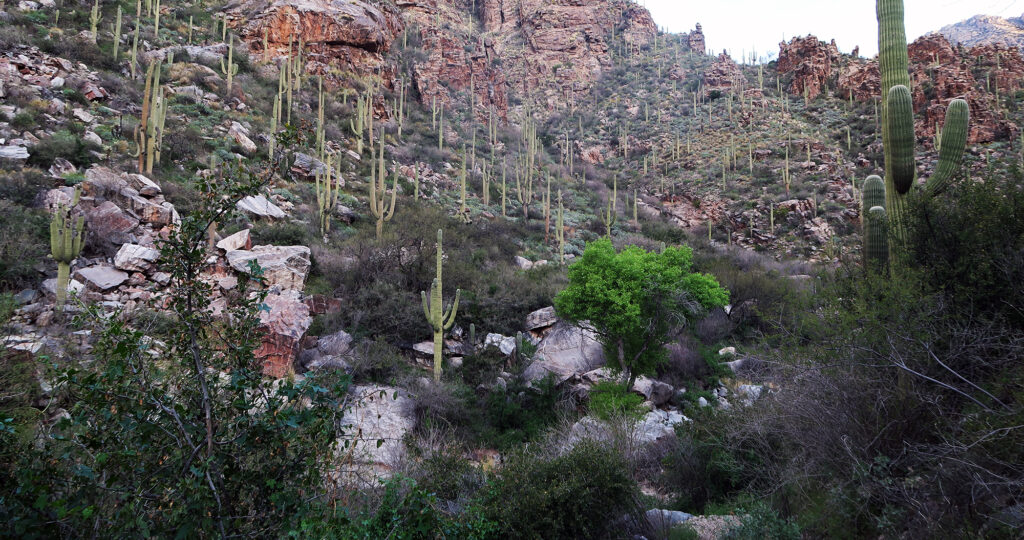 The hike to the "maiden pools" rises roughly 1300 vertical feet over 2.5 miles (5 miles round trip). This provides an excellent 3-ish hour hike to get your blood flowing and sweat glands pumping. I saw a handful of other solo hikers in the canyon. Most seemed like locals out for a workout. This definitely did not strike me as a big destination hike! But it was really beautiful nonetheless.
The Maiden Pools
I saw various small pools of water on my way up the canyon. I reached the point where the All Trails recording ended. Did I find the Maiden Pools? Maybe. There were pools. But I could not ascertain any of their marital statuses. What I did find were excellent views of Tucson.