March 18, 2023
Desert Museum
The morning sun poked its head above the hills as I zipped along the winding roadway over Gates Pass. The desert grew brighter, revealing an undulating, dusty landscape of endless saguaros. I was definitely in Tucson.
Our hike wouldn't begin until around 10 am—late, but feasible in winter. But the wonderful Desert Museum, conveniently located across the street from our trailhead, opened its doors at 8:30 am.
I arrived shortly after opening, wandering through the gorgeous gardens of native flowers and plants. The Museum represents a mixture of botanical garden, zoo, and natural history museum. I saw coyotes, mountain lions, and one reclusive ocelot. Eager desert aficionados volunteered all sorts of fun facts about the exhibits (some paid staff, some just regular visitors).
After an hour or two, the time came to pull myself away and head toward the trailhead. This was kind of a bummer, as the "birds of prey" show was about to begin. Quite a production.
Performance Art
I crossed the street to the King Canyon Trailhead, a small paved lot. The night prior, our local Tucson host explained the trailhead wouldn't be fully parked out. Even at 10 am on a Saturday? I was skeptical.
Soon enough, she pulled up with a car full of fellow hikers. She rolled down the window to explain she'd need to park across the street at the museum. I then got to flash a big, raised eyebrow, "I told you so" grin. That said, it turns out my parking assessment only proved correct due to unusual circumstances …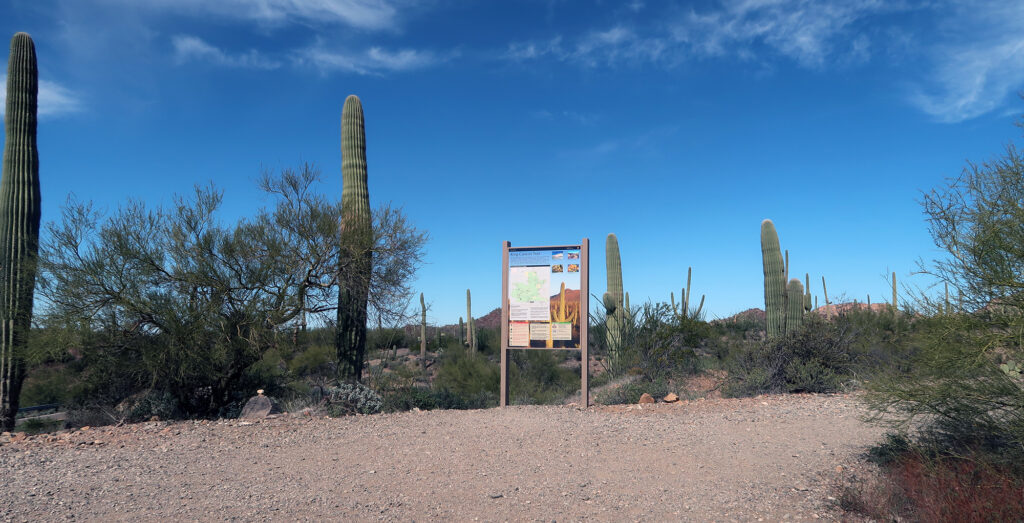 As they pulled off towards the much larger museum lot, I noticed an increasingly large band of hikers gathering near the trailhead. And by "band of hikers", I literally mean band. They carried instruments: guitars, clarinets, saxophones, and violins. If memory serves, someone even brought a didgeridoo.
Some sort of performance art would take place in the park that day. I'm guessing non-sanctioned by the Park Service. One ring leader explained the plan: they'd walk a couple of miles into the nearby wash. They'd spread apart along the trail, within earshot of each other. Then they'd improvise.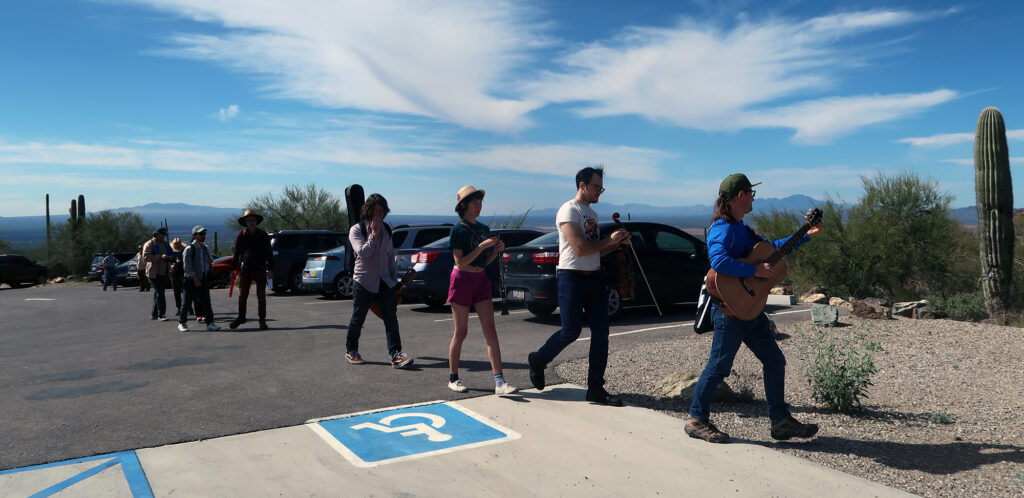 Saguaro National Park
Soon after they left, our full group reached the trailhead, ready for adventure. I explained that we may or may not be walking through a performance art exhibit en route. Unfortunately, we never did run into the musicians that day. They had marched off down some off-trail route of auditory and cryptobiotic carnage.
We began up the King Canyon Trail. This popular route heads towards Wasson Peak, a high point near the center of Saguaro NP's "Tucson Mountain District". This somewhat unique national park comes in two big chunks. The Tucson Mountain District lies west of Tucson. Across the city, in the eastern hills, lies the much larger Rincon Mountain District. Popular opinion holds the western section packs a better punch.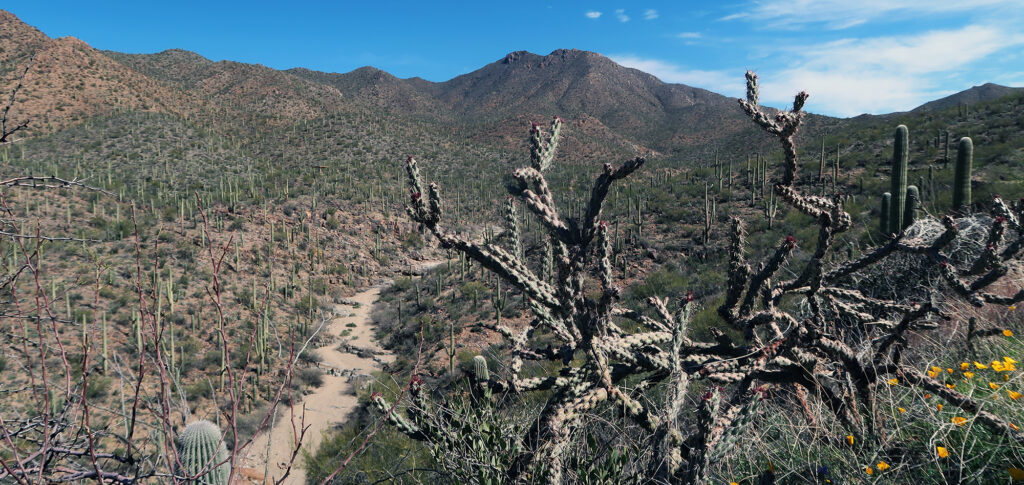 Saguaro National Park takes its name from the prolific saguaro cacti, endemic to the Sonoran desert of Southern Arizona and Western Sonora, Mexico. Imagine the most stereotypical, Road-Runner-and-Cayote, burrito-restaurant-wall-mural, 1950s-cowboy-film-soundstage cactus you can possibly think of. That's the saguaro. They're tall and columnar with big, anthropomorphic arms. They're that cactus. And in the United States, they are only found in Arizona (and only truly flourish down near Tucson).
Our local tour guide
We continued up the trail, stopping often to take in the desert flora. March was wild flower season in the deserts above Tucson. And colorful flowers festooned the shrubs and cacti throughout the park.
Our host, a friend from grad school, is a professor at U Arizona in astronomy. But her interests were wide-spanning enough to include some desert ecology. In true professorial style, she peppered some catus fun facts into the conversation as we slowly rose towards nearby Wasson Peak.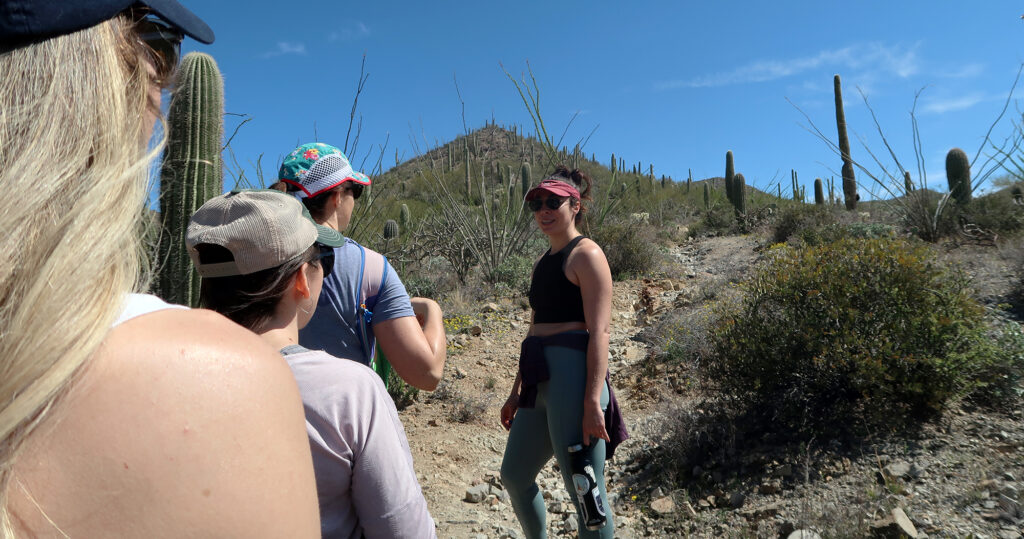 My biggest takeaway? Saguaros are a bit of a paradox. At first, they seem mighty. They grow everywhere outside Tucson. They tower proudly over the rocks and shrubbery. And they are old—often over a century old. It takes 50-100 years for them to sprout arms.
But saguaros also seem fragile. They exist only in this particular desert. Nearby saguaros are often the same age—they take hold only in certain, rare years under ideal conditions. They grow first beneath the shadow of some nurse plant they later sabotage. And a lost grove will take the better part of a century to restore.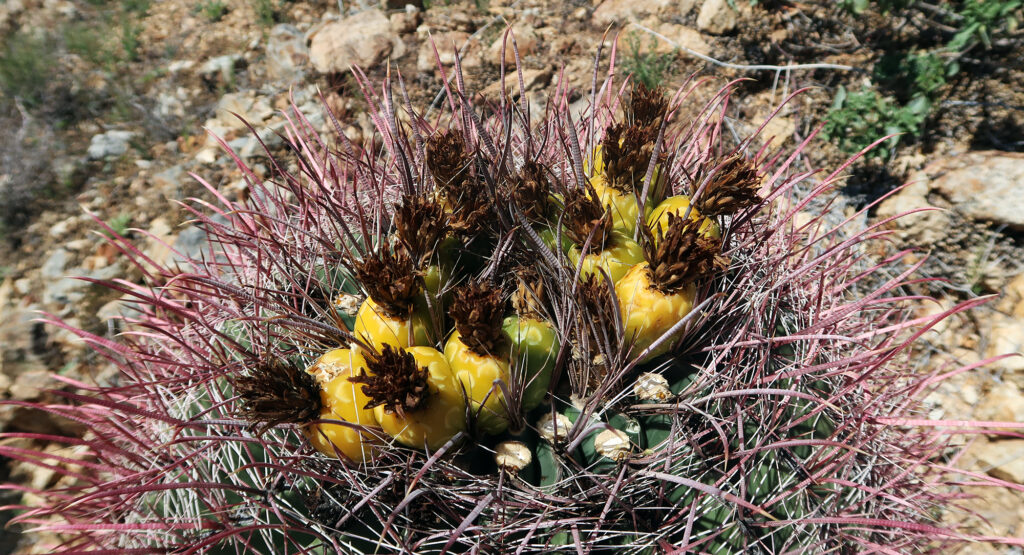 Onward toward Wasson Peak
We continued upward along the King Canyon trail. The "canyon" was more of a gulch—a wide drainage, formed by a fold in the hills. The trail began to rise in earnest towards Wasson Peak, a notable summit within the park.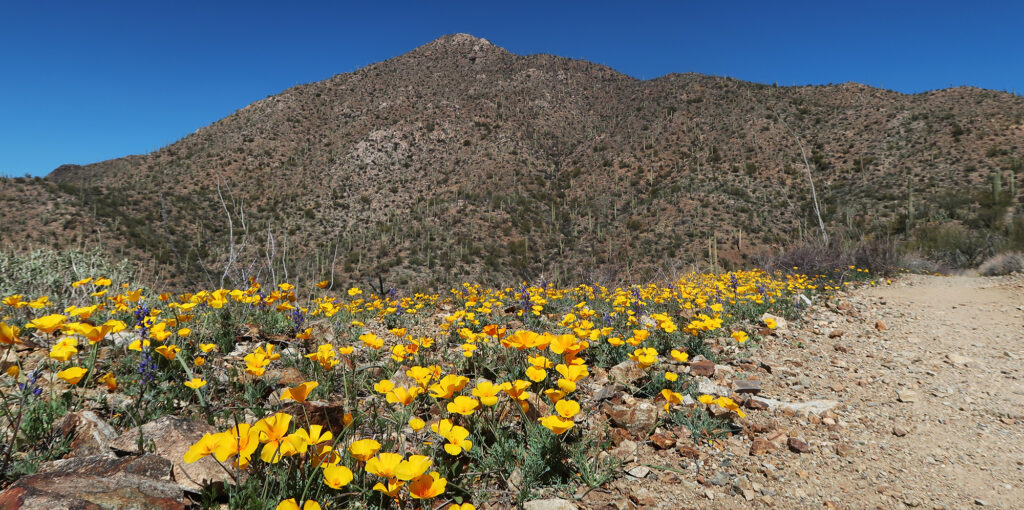 At this point, the bulk of the group gaveled on heading back toward the trailhead. Our host would be hosting a 40th Birthday Soirée that evening—our reason for being in Tucson. And preparations needed to start.
I said goodbye to the group and continued up the trail. I have a bit of a compulsion when it comes to summiting mountains. Which is sort of the whole raison d'être behind this blog, and its well–documented absurdities.
I picked up the pace, to turn this hike into a bit of a cardio exercise. (A pre-party shower was inevitable at this point). The trail climbed towards a saddle between Wasson Peak and other nearby summits. And Tucson came in to view, low and flat, beyond the ridge.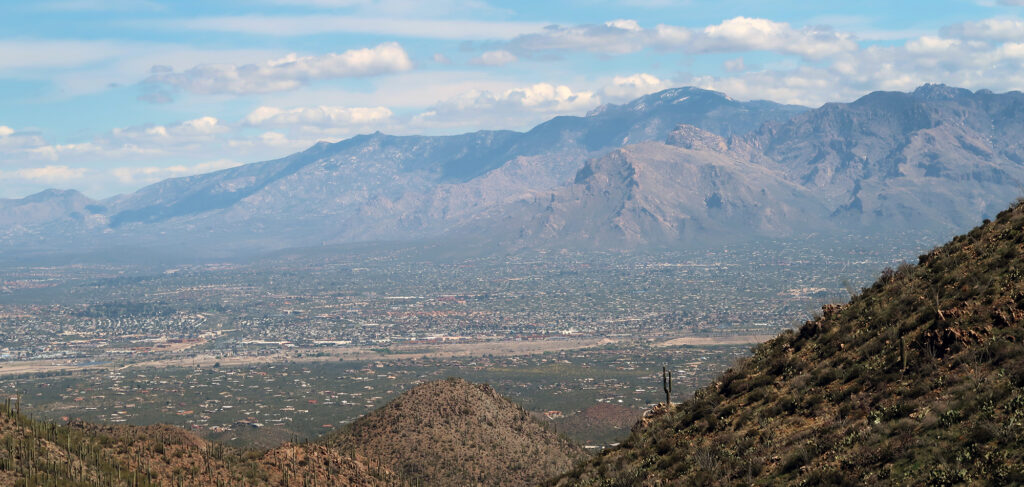 The city looked incredibly picturesque, surrounded by tall mountains on most sides. Opposite my current location rose much taller, forested peaks, including Mt Lemmon—home to America's southernmost ski area. I could see the last vestiges of snowpack atop these peaks.
Wasson Peak
The King Canyon Trail reaches its terminus atop Wasson Peak, a 4,688′ summit centrally located within the national park's western district. A couple of other trails also converge near its summit. From its summit, you can see for miles in any given direction. Far to the south, I saw Kitt Peak, home to numerous telescopes and observatories.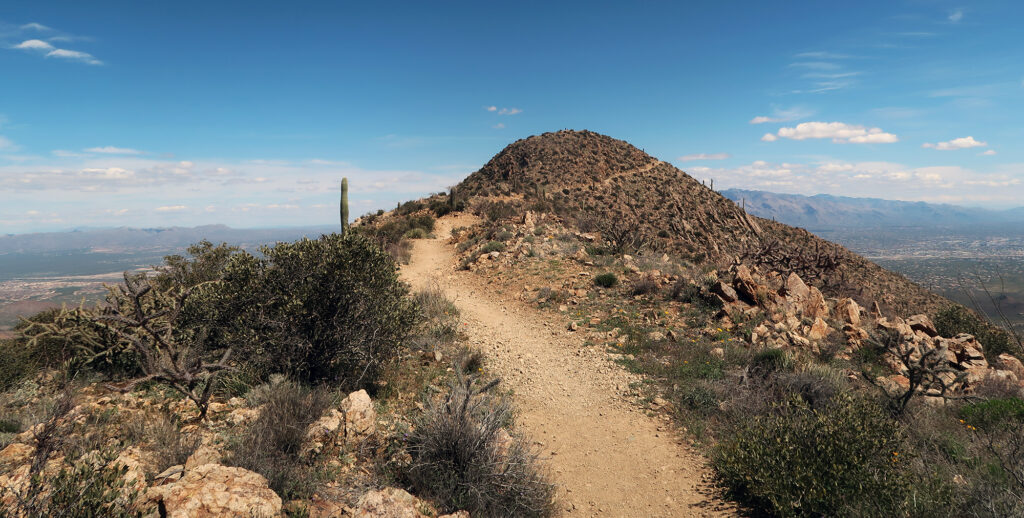 I soaked in the wide-ranging views and deep blue skies. A raven circled nearby, riding up thermals before periodically diving downward.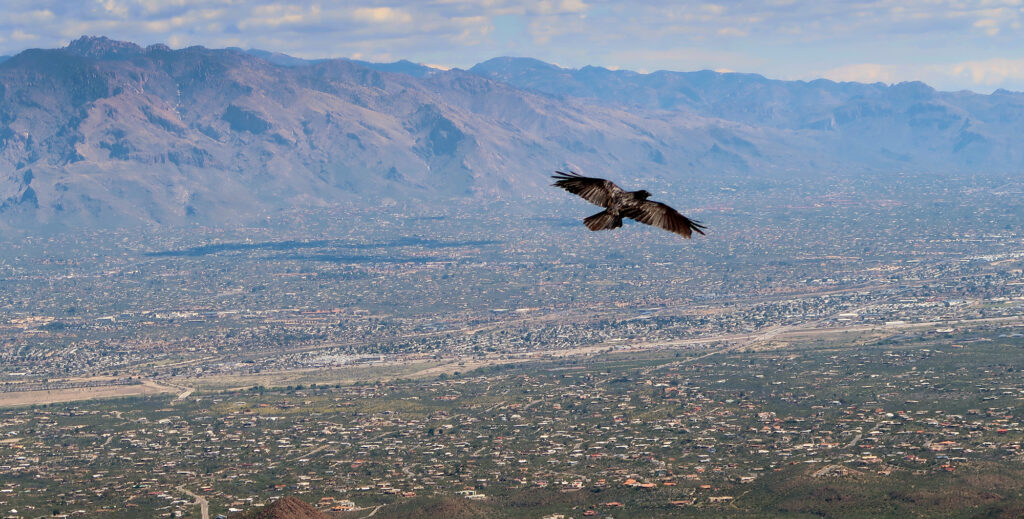 A handful of other hikers came and went from the summit area. Since I peeled off from the group, I had seen very few other hikers. Coming down an alternate route I would run into folks with far more regularity.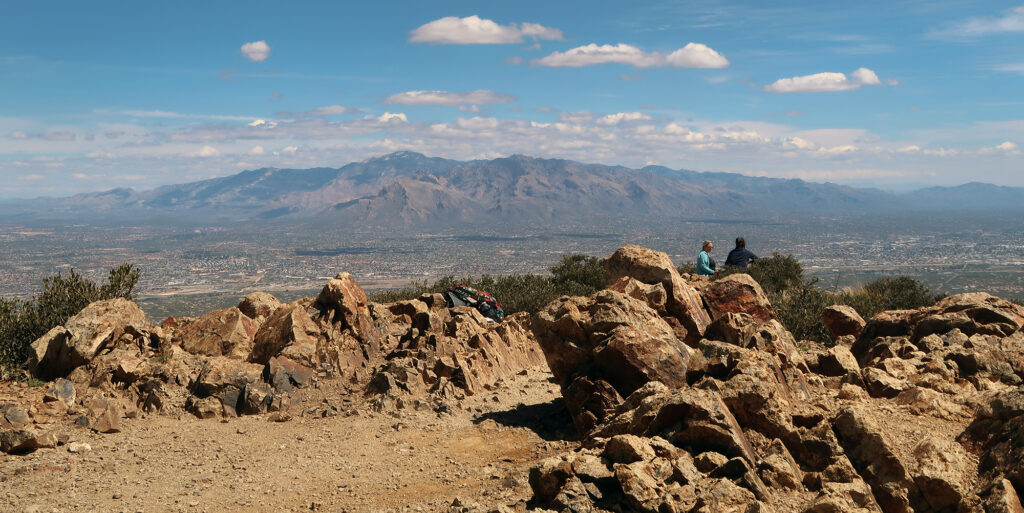 Heading back along the Hugh Norris Trail
One benefit of reaching the summit: I could descend back to the King Canyon trailhead via an alternative route, turning the hike into a giant loop. A loop always provides a bit more variety and novelty than an out-and-back hike.
I backtracked along the summit spur and then headed right, down the Hugh Norris Trail. From Wasson's summit, you can descend into a few very different, drainages. I definitely recommend caching a map on your phone (and bringing a compass). This second trail descended along the leeward side of a separate ridgeline. As a result, it was notably greener, with even more wildflowers. Hooray.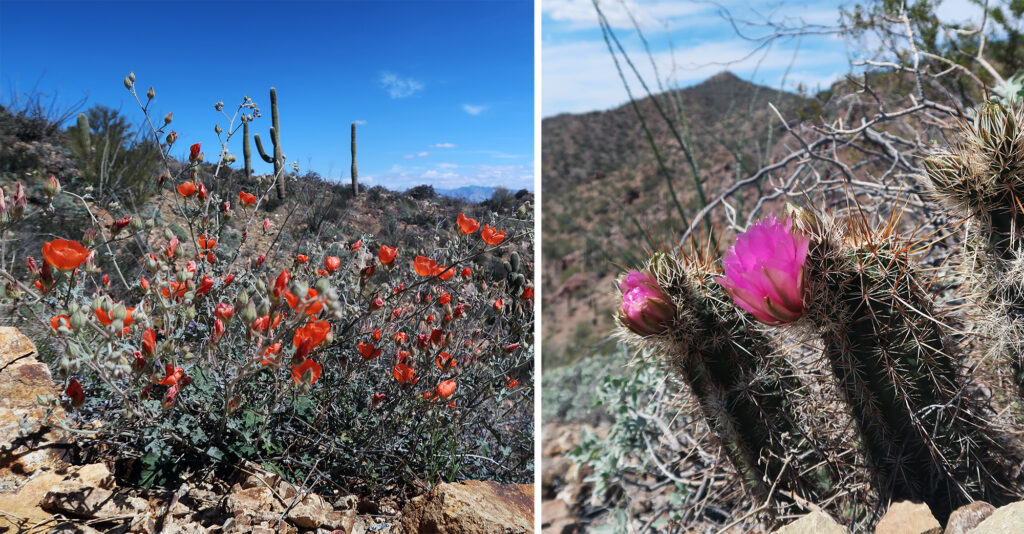 Next, I passed through a grove of particularly tall and handsome saguaros. Saguaros, it seems, are like snowflakes. No two are identical. But some are more spectacular than others.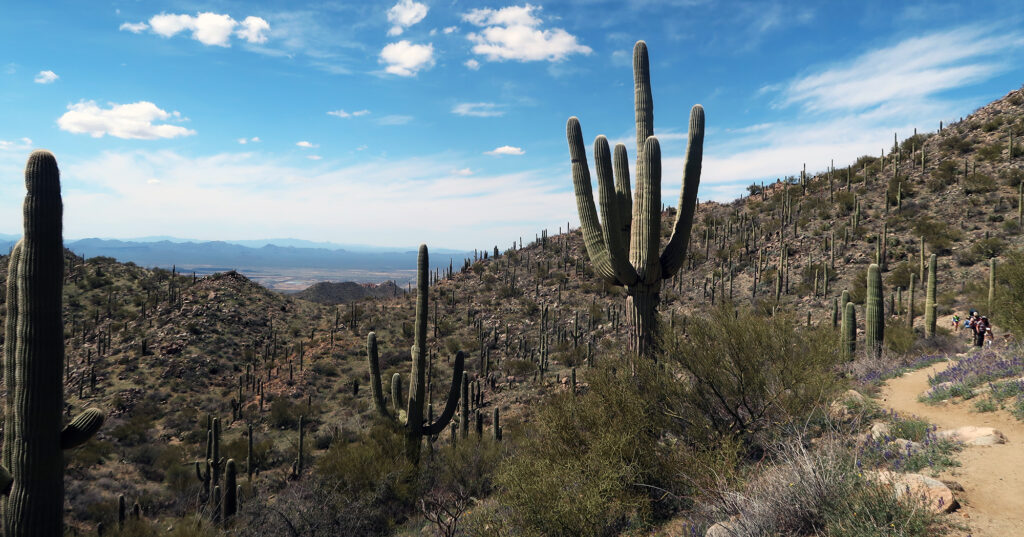 Back to the trailhead
I continued down for several miles, soaking in the views and the endless array of cacti and wildflowers. At a saddle, I turned left onto the Sendero Esperanza trail, towards the Gould Mine trail. Did I mention the importance of caching your route? This park had a lot of crisscrossing trails!
In total, I hiked roughly 8 miles, gaining 1800 vertical feet that day. Definitely a robust day hike. Winter and spring are probably the most pleasant times to visit Saguaro NP. But start early enough and you can enjoy it year-round. It's definitely a wonderful place to check out.