July 1, 2023
Telluride to Ouray via the Sneffels Traverse
Our shuttle van left Ouray around 7 am for Last Dollar Pass, and the start of the Sneffels Traverse. We trundled up the rough dirt road, through rolling hills of green grass. The morning sun shone through sparse stands of aspens. Patches of hillside were covered in thick blooms of purple lupine. A herd of elk moved about the hills below us.
The van, like the primitive huts we would be staying in along the traverse, was run by San Juan Huts. This small, private outfit has provided backcountry skiing huts since the late 80s, branching out into biking and hiking since. Our traverse included accommodations at four of these huts, turning a 32-mile traverse into manageable days of leisurely hiking.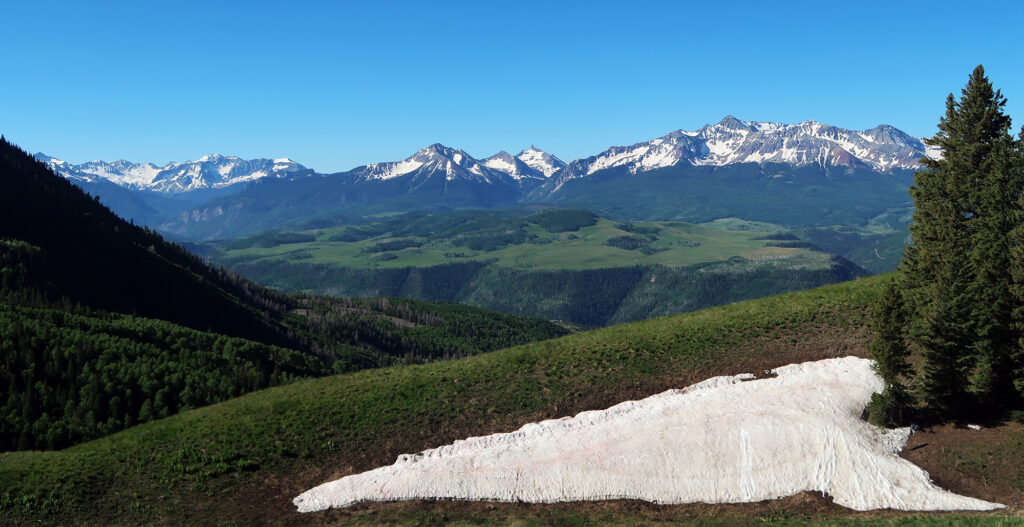 At the pass, we bid goodbye to the van driver and began down the trail. Day one would take us along the Alder Creek Trail, from the pass to the "North Pole Hut", our first overnight.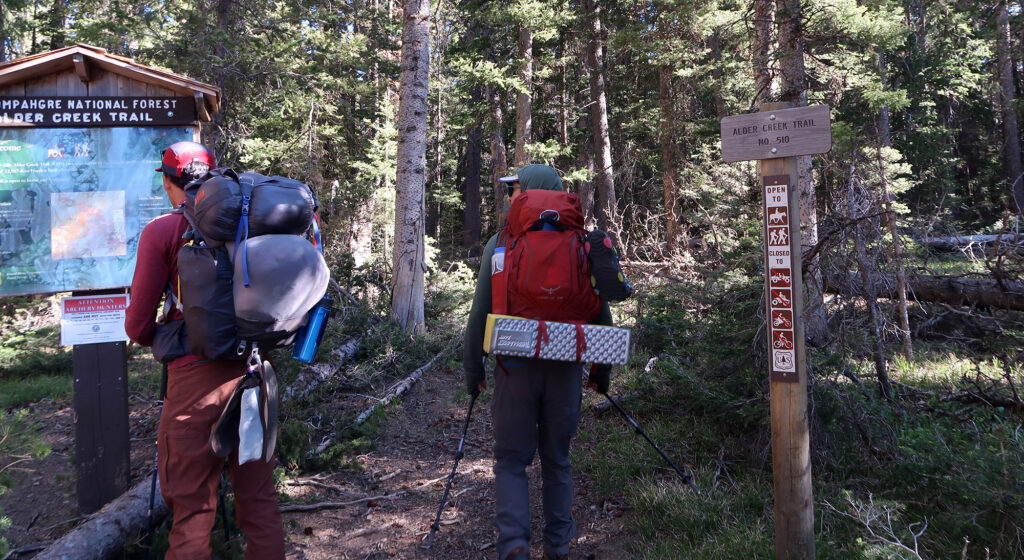 Bugs and Blowdown: the Challenges of Spring
The Sneffels traverse runs through the northernmost slopes of the San Juan Mountains, beneath the rugged "Sneffels Range". Views to the north include rolling foothills and the low-lying regions around Ridgway. To the south, high alpine peaks loom nearby, beyond the trees. The trail itself mostly hovers around 9-10,000 feet, running through pine and aspen forests.
Mileage per day runs from 4 to 10 miles, with 500-1800 vertical feet of gain. For folks with backpacking or summit-bagging experience, the prescribed route thus makes for relaxed miles.
Perhaps the biggest effort comes on Day 1, a 10-mile stretch through the Mount Sneffels Wilderness with seemingly endless "blown down". We went slowly, ambling over downed tree after downed tree, getting way more of an upper-body workout than expected.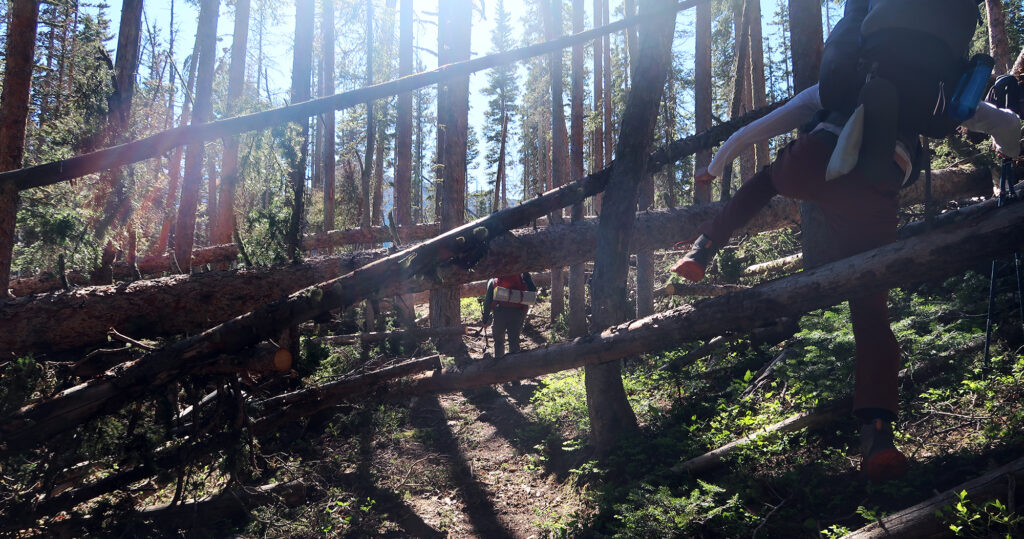 The good news: the blowdown all but disappeared after day one. But another harbinger of early season—mosquitos!—persisted throughout the traverse. That said, with enough bug spray we mostly managed to avoid bites.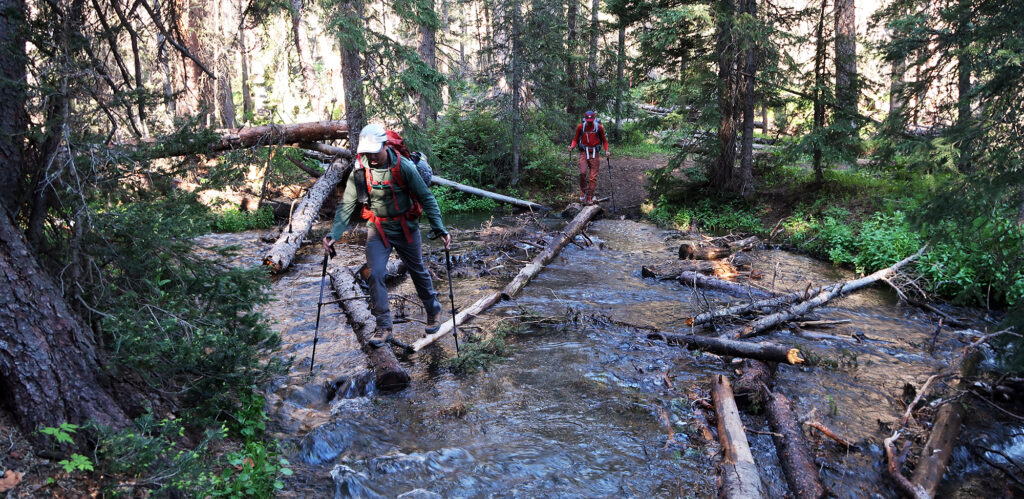 The Huts
Across the globe, hiking "huts" vary from full-service, catered experiences, to little more than four walls and a roof. The San Juan Huts are somewhere in between. They come with a wood stove, sink, propane tank, and bunk beds. First aid kits, camp mattresses, and cooking utensils are likewise provided. Outhouses typically lie uphill and a small ways from the huts. Overall, it's a very primitive setup compared to what you might experience in Europe.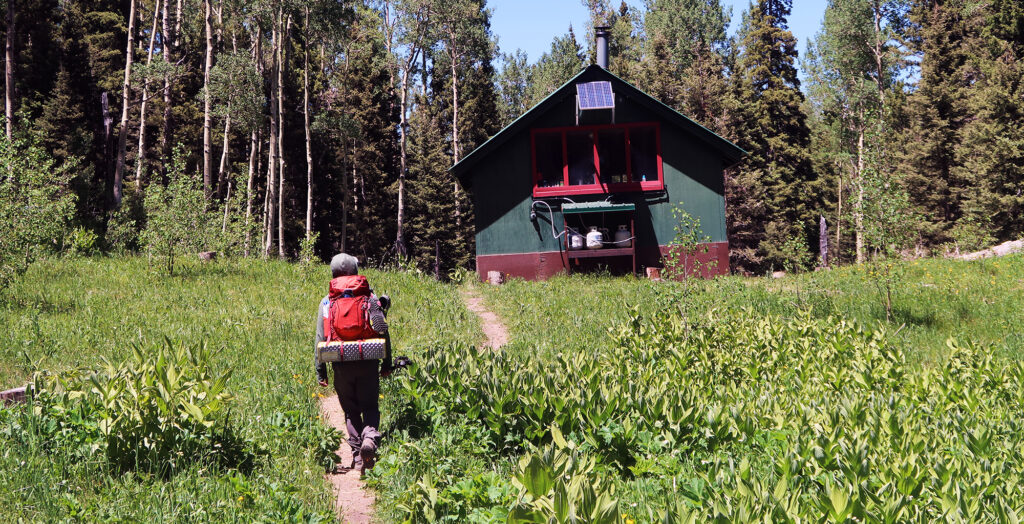 Each night we cooked our own meal, making use of the propane stove. San Juan Huts does provide optional food drops at all but one hut. We elected to get a food drop at Blue Lakes Hut (the second night). All this allowed us to forgo a lot of heavy backpacking gear (and break up the food haul quite a bit).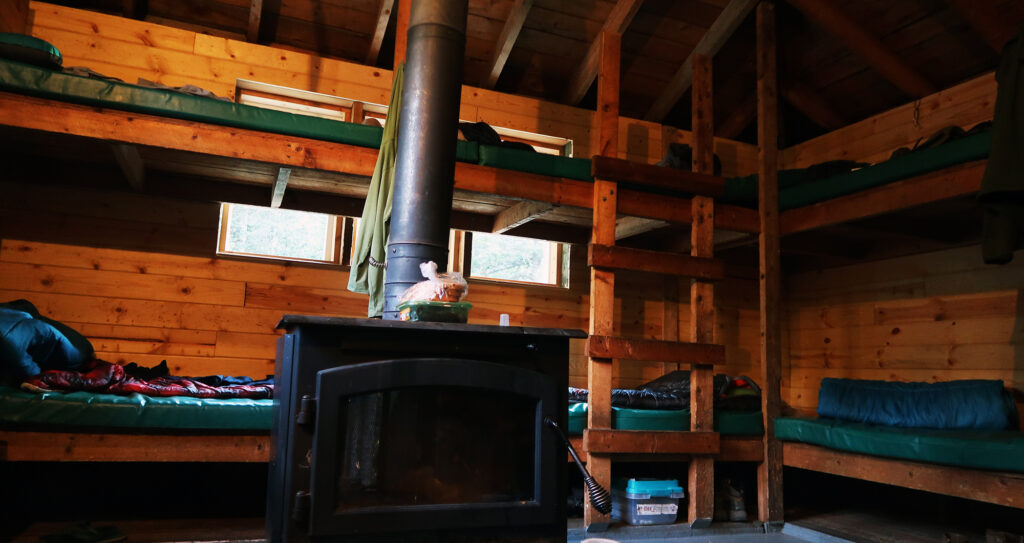 Stunning Views
Along with easier miles, days two and three brought incredible views. We traversed through high meadows where Sneffels and other high peaks loomed large above us. Southwestern Colorado had been blessed with ample spring snow, and much of it still lingered, burrowed into couloirs and shadowy faces of the alpine summits.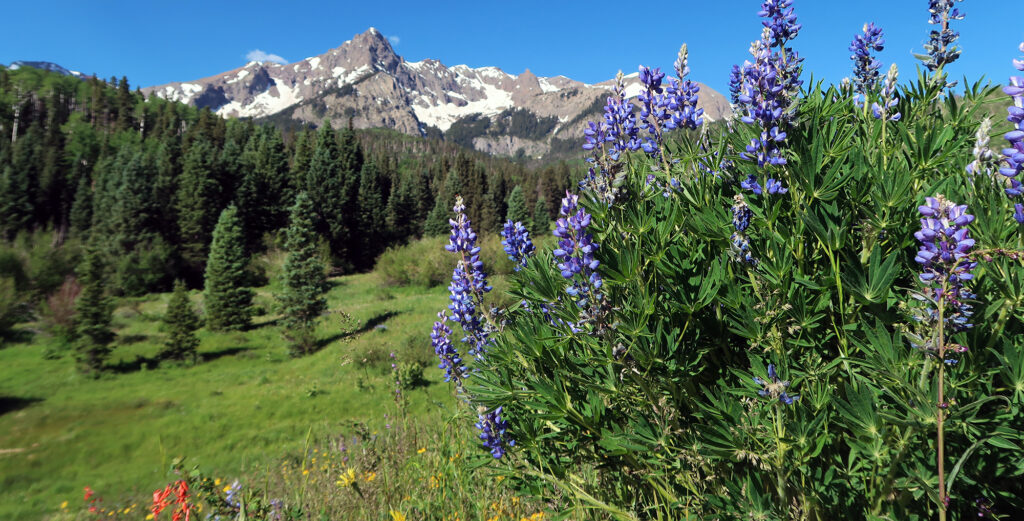 The weather oscillated between blue skies and sunshine and rain and thunder on day two. Below the treeline, we felt mostly safe from the storm. A moody meadow revealed stunning views of Sneffels itself, from a similar angle to the photo on the Colorado driver's license.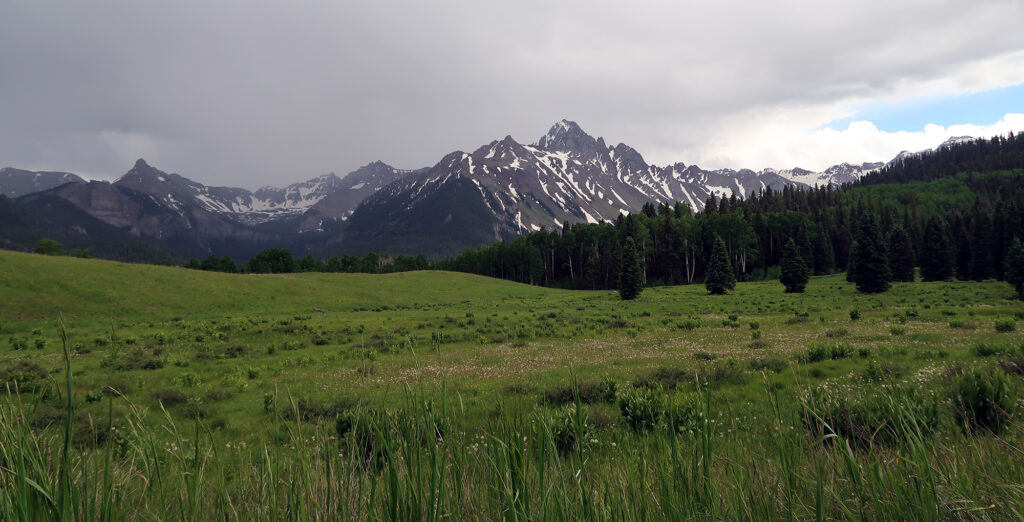 On day three, a steep ascent brought us to what is supposed "the best view in Colorado". I definitely struggle to find counterexamples.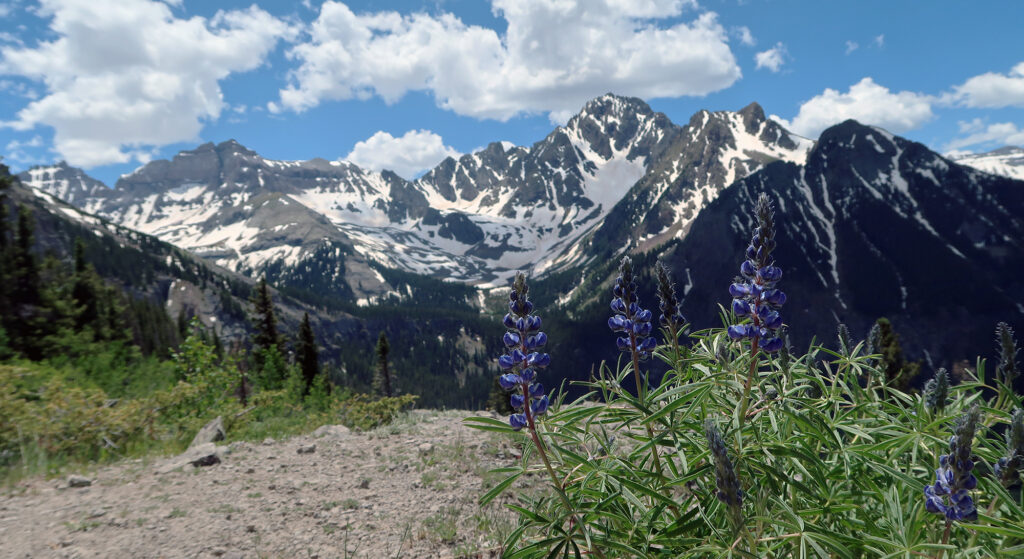 Sidequests
For avid hikers, the Sneffels Traverse will involve a lot of down time between hikes. You could fill that time lounging around the huts in the provided 'Crazy Creek Chairs'. But a few excellent day hikes branch off from the route, up into the Sneffels Range. On Day Two, my group (of three) and half of our remaining hut mates decided to hike up to Blue Lakes. While the traverse route was basically empty—we saw very few folks other than our hut mates—the Blue Lakes trail was thronged. It ranks among the "best" day hikes in the state.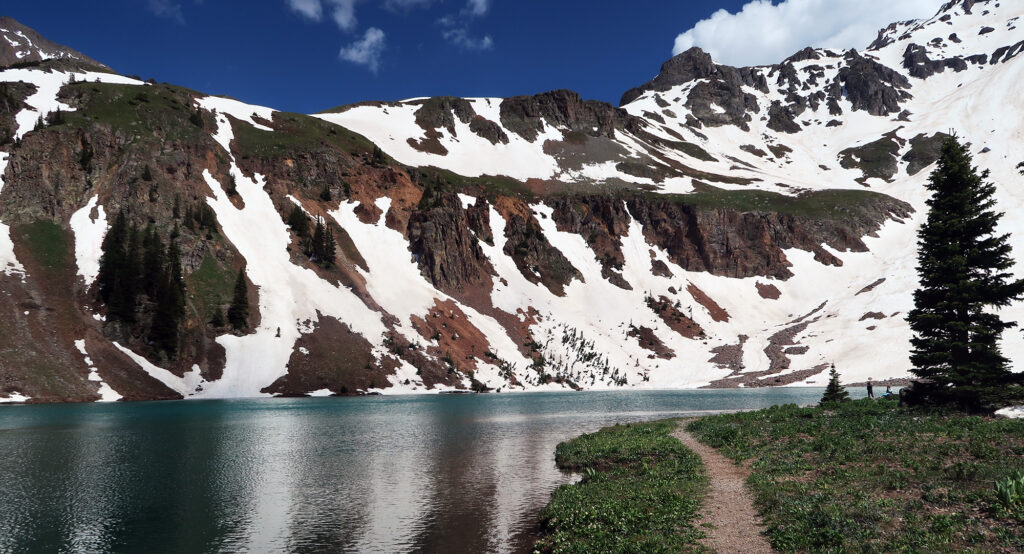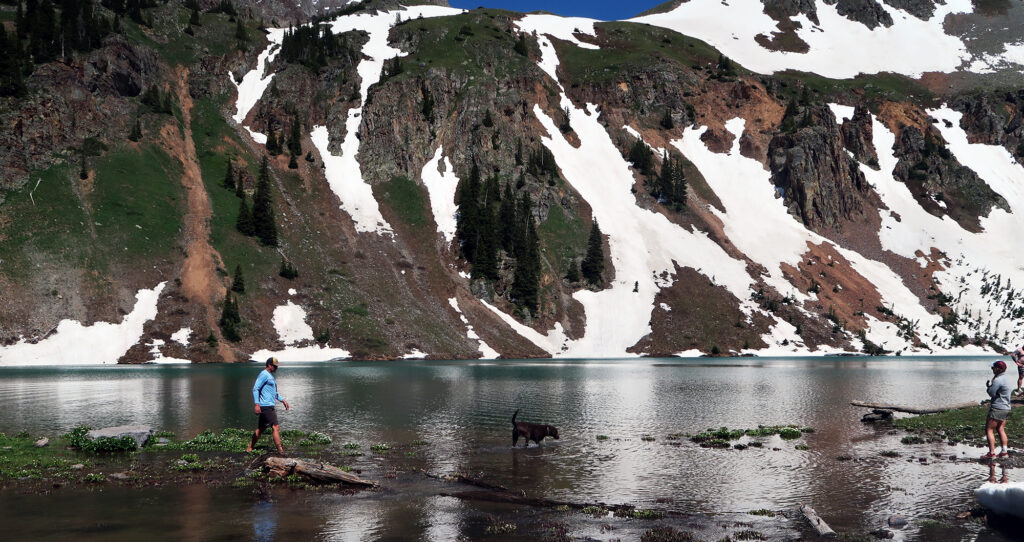 Blaine Basin is another popular offshoot. Here I was alone in electing to forgo the extra mileage. Instead, I sat atop a ledge on the traverse route for perhaps an hour, soaking in views of the high peaks and low valleys.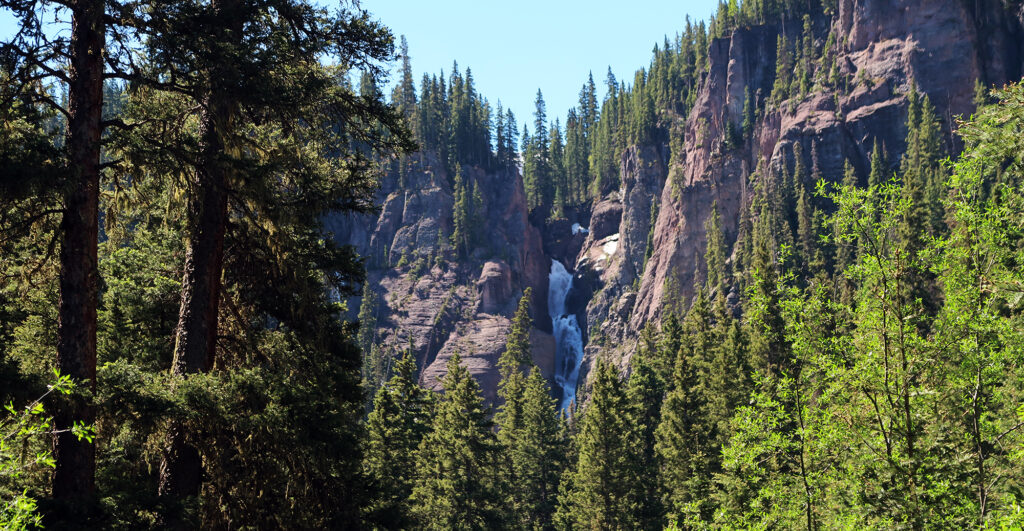 Finishing the Sneffels Traverse: Onward to Ouray
Before setting out, we decided to combine the final two days of the traverse. Even combined, this only represented about 8 miles of hiking and 1000 feet of elevation gain. We got an early start, as usual, passing Burn Hut and coming upon a meadow with breathtaking views down into the deep valley containing Ouray.
Then began a long, bittersweet descent into Ouray. Red rock cliffs grew higher around us. Our cars lay just a few miles ahead. It was time for fried food and air conditioning.