August 23, 2020, Sun Notch Trailhead
A stroll along the Sun Notch Trail
I spent a day last August exploring Crater Lake National Park en route to Bend Oregon. After a sunrise hike to Garfield Peak, I began a drive along East Rim Drive. A recent spate of wildfires had left the lake quite smokey, and sightlines would continue to deteriorate into midday. Beyond this COVID-19 had dashed any plans of taking a boat tour around the lake. But some other short hikes were still on the docket, including this little gem!
The Sun Notch trail is a very short loop hike located a few miles east of Rim Village along East Rim Drive. It begins under the shade of tall conifers, before passing into a sloped, grassy meadow. Tall peaks surround the meadow on two sides.
Perhaps a quarter mile from the trailhead you reach the main event: a few choice views of Phantom Ship!
Phantom Ship
There are two islands in Crater Lake. The largest is Wizard Island, a cinder cone volcano that rises 700′ above the lake's surface. Contrary to popular belief, Wizard island is not the collapsed remains of the original peak. Rather it formed long after the eruption.
The second island, however, is a remnant of the old mountain. Phantom Ship is a rocky protrusion of the remains of a long, column of volcanic rock that collapsed into the lake following the eruption. While much smaller, this island still rises a respectable 170 feet above the lake shore (17 stories). I'm sure it'd be super impressive form a boat!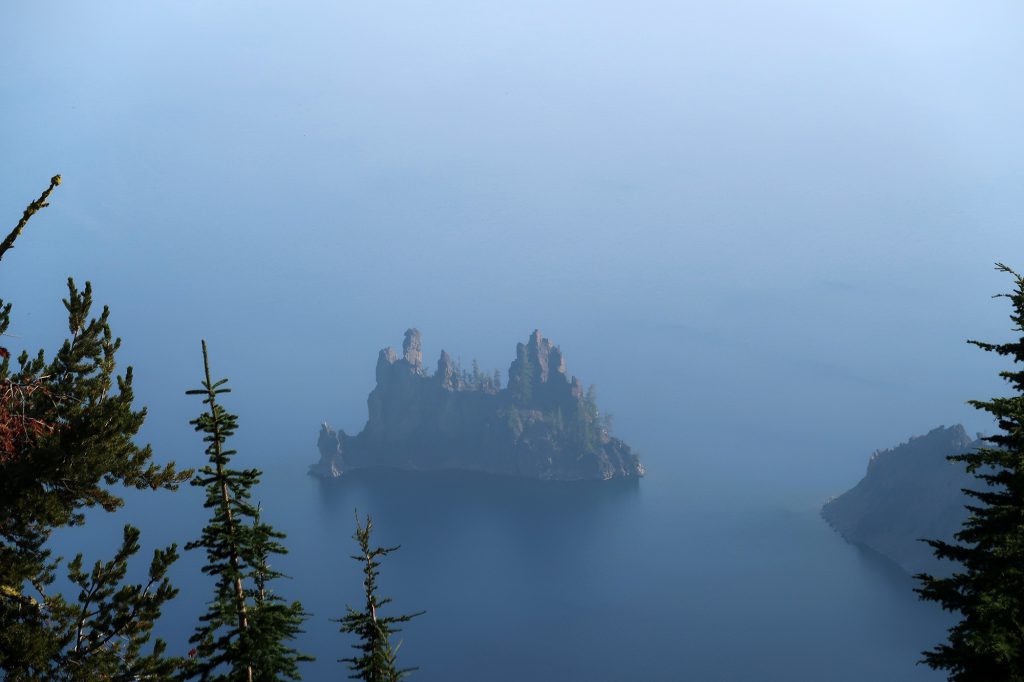 Thickening Smoke
I pulled myself away from the gorgeous views of this ghost ship. The loop continued back across the meadow and into the trees. Soon enough I was back at my car, less than a mile into this quick journey. The Sun Notch Trail provides a great chance to "stretch your legs" even for folks not terrible hiking-inclined.
I stopped at a few more points of interest along the rim drive, including a few much higher overlooks. I saw a few soaring condors and of course the deep water below. But as the smoke thickened, I found the sight lines growing shorter and shorter. I switched tactics and made a B-line for Cleetwood Cove. It was time to go swimming :).