October 3, 2022
Aoraki/Mt Cook National Park
I woke up bright and early for a sunrise (ish) hike in Aoraki/Mount Cook National Park. By now, I had spent the better part of a week soaking in New Zealand's Southern Alps. I flew into Queenstown and worked my way north, including a sunset hike near Mount Cook the evening prior. But these tall, rugged, glacier-clad peaks continued to feel nothing short of stunning.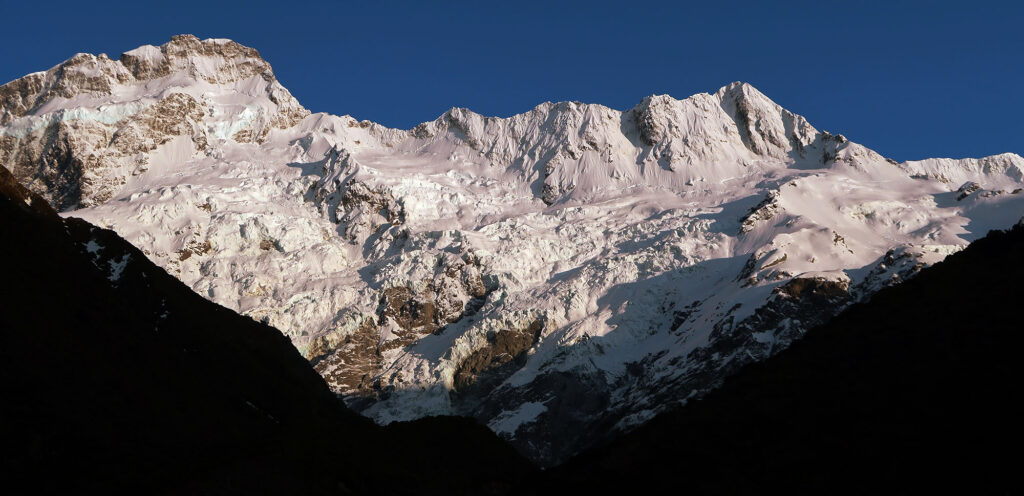 I arrived at the car park, as direct light began to light up Mount Sefton's rugged Tuckett Glacier. These peaks have served as a training ground for New Zealand's illustrious mountaineers, including Sir Edmund Hillary himself. And staring up at the treacherous ice falls and jagged summits, this definitely felt like a Himalaya-lite.
I set off towards the Sealy Tarns Track, enjoying a blissful quarter mile of flat-to-rolling terrain. The rest of the hike would prove … quite different. Then the stairs began.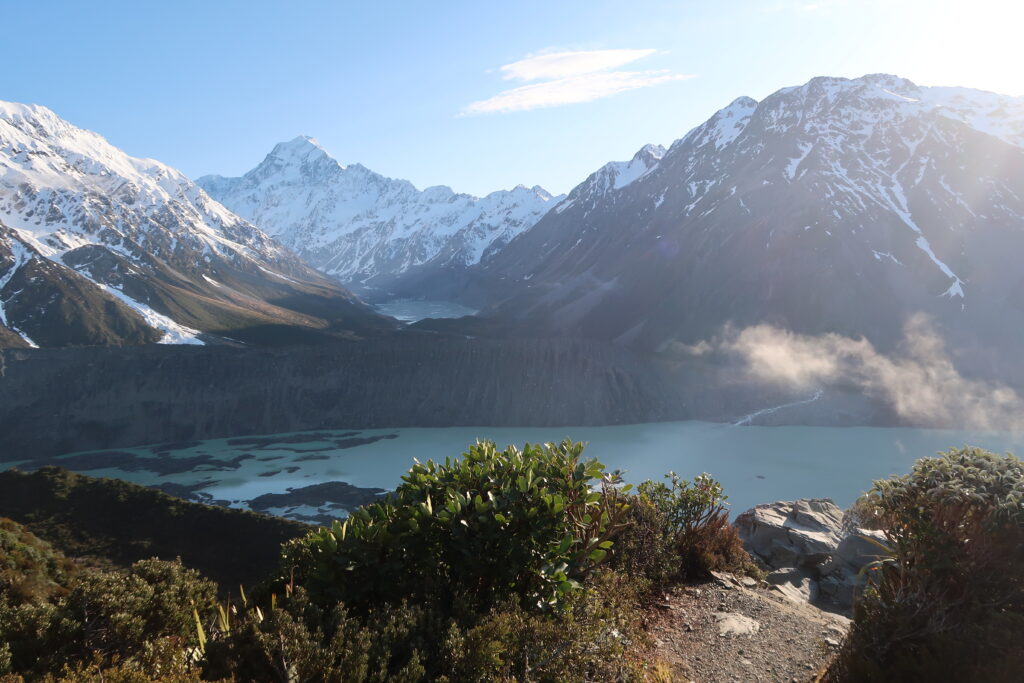 The Sealy Tarns Track: aka Stairway to Heaven
The Sealy Tarns Track rises 1600 vertical feet in just under a mile. For those metric fans out there, that translates to "it's steep AF". A more minimalist trail over this terrain would involve a grueling scramble up slippery rock ledges. But New Zealanders are civilized. They drink tea. And thus the route sports endless wooden stairwells.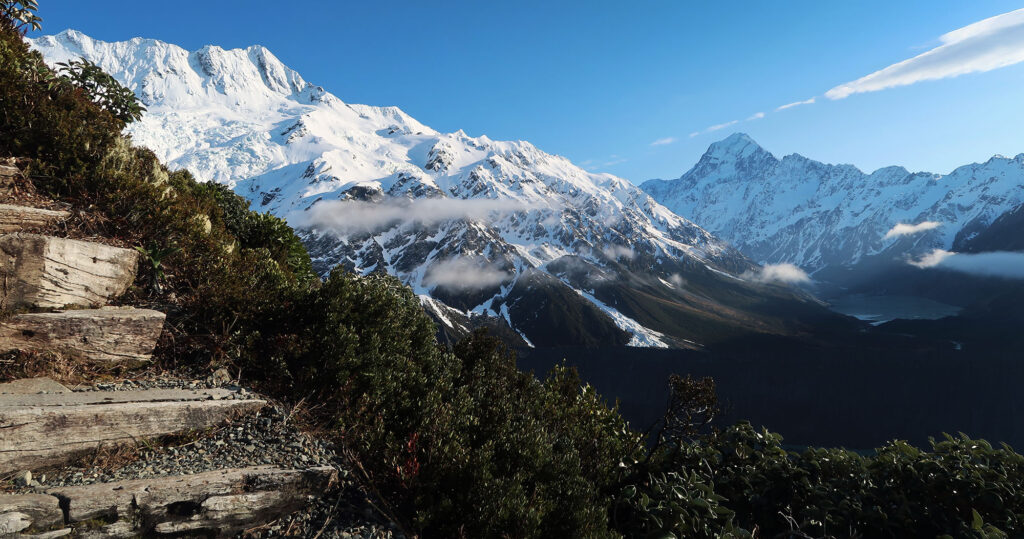 I've seen it reported that the stairs to Sealy Tarns number over 2000. Given the vertical gain and standard riser height, that roughly tracks. Slow and steady winds this race. The views open up almost immediately. It forms perhaps the world's most scenic Stairmaster.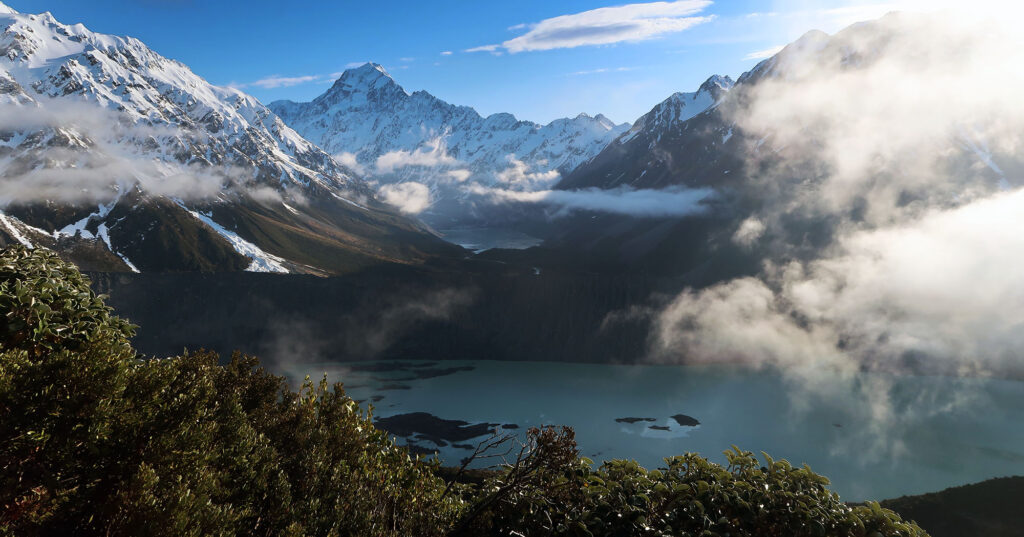 A change in the weather
I will always advocate for an early start to any hike. In this case, my dawn start afforded fleeting views of the Hooker Valley. As the sun began to warm the South Island, low-lying clouds rolled into the area. Soon my seeing distance shrank to perhaps 100 feet.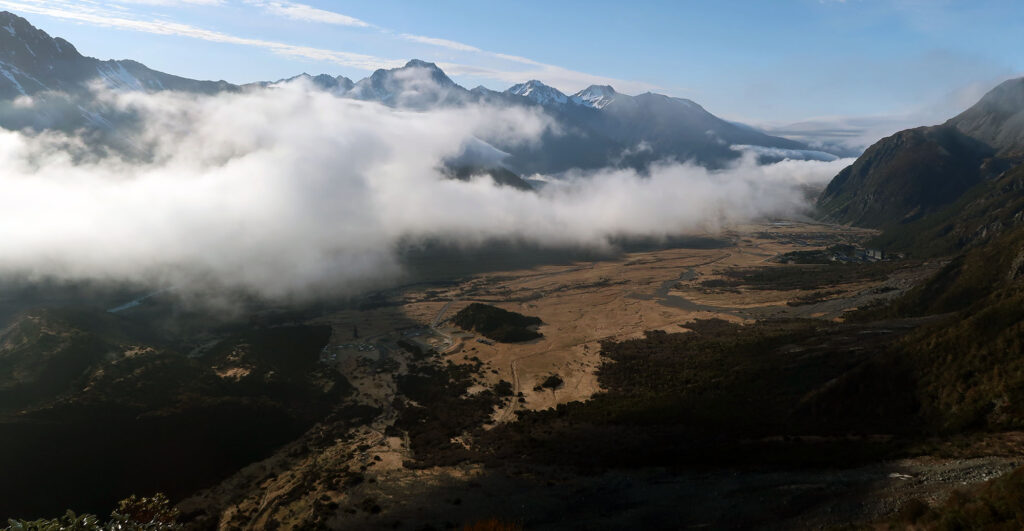 Around this time, I also ran into trail segments covered in spring snowpack. The national park posts avalanche warnings at the trailhead for several tracks. And the Sealy Tarns route can indeed experience slides.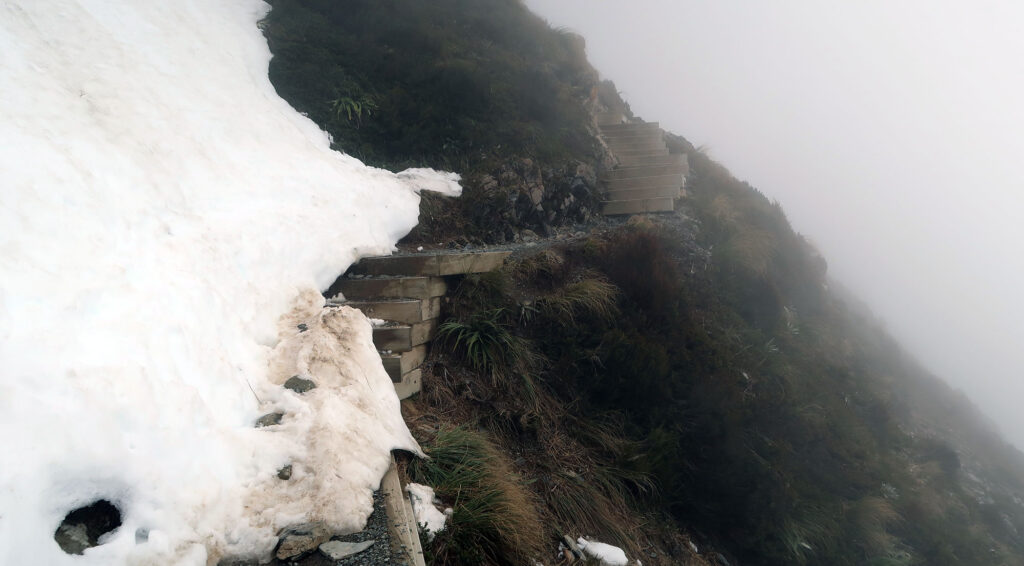 Sealy Tarns
Soon, I arrived at the tarns themselves. If you go in mid-summer, you'll find a pair of placid ponds, reflecting views of the nearby glaciers and summits. But I arrived to find dense fog and snowpack. The tarns had yet to reveal themselves for the season.
The return journey
A more primitive track continues roughly twice as high to Mueller Hut, a backcountry shelter amidst the Aroarokaehe Range. But with the fog and snowpack, I decided to stick to my plan of just reaching the tarns.
In the fog, I saw a solo backcountry adventurer continuing higher, with skis on his pack. The well-maintained track provides a portal to a range of more intense alpine adventures.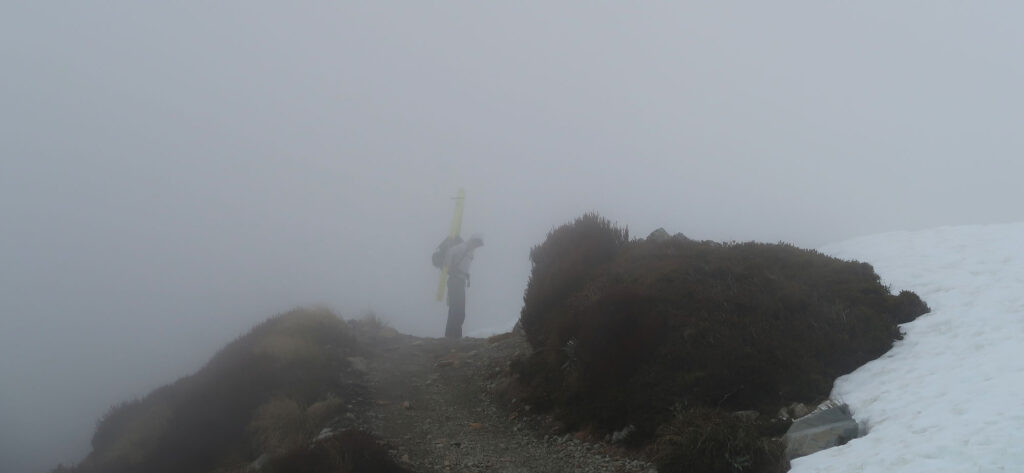 I made my way down the steep stairwells. Like all hikes in New Zealand, it's effortless to draw parallels to classic scenes from the Lord of the Rings trilogy. Here I'm tempted to liken Sealy Tarns to the stairs into Mordor from Minas Morgul. But I can assure you the exposure along this route is very tame. No lembas bread tumbling into the abyss.
In short order, I was back in the valley amidst the island's subtly Polynesian native flora. A dense layer of clouds now hung above the valley floor. It was a dramatic change from when I had left!