March 27, 2021
Chautauqua Park
In late March, having lived in Denver for roughly four months, I decided to take my first hike as a bona fide Colorado resident. Until now my weekends had been filled with skiing in the high country and biking around the metro area. But on this warm day in late March, a hike in the foothills seemed in order.
I arrived in Boulder's Chautauqua Park bright and early, to hike the Royal Arch Trail. Boulder's famous Flat Irons rose high over the landscape, visible for miles even as I drove into town. I found convenient parking beside the trailhead, which happened to be free on this Sunday in March.
Chautauqua Park takes its name from the local chapter of the Colorado Chautauqua, a venue for entertainment, culture, and education. The Chautauqua movement reached its heydey in the 1920s, with a consciously high brow mix of diversions that seems to be some mix of live music, theater, and last centuries version of TED talks.
The park also serves as a launching point for various trails in, around, and above the Flat Irons. And my target today would take me right along the base of these massive stone formations.
The Royal Arch Trail
After walking along a short dirt road through the lower meadows of Chautauqua, I reached the narrower and more rugged Royal Arch Trail. This route rises roughly 1400 vertical feet in just under 1.5 miles—a concerted rise, but safe and achievable for the whole family if you take your time. The park provides ample signage along trails, along with difficulty ratings borrowed from the ski industry (e.g. blue squares, black diamonds).
The trail quickly transitioned to tree cover and steep slopes. It ascended along a small ravine with flowing water. This being late March, northern exposures sported full snow cover, whereas southern slopes were completely bare.
You can hike this trail safely year-round, but in months like this, micro-spikes make things a lot more enjoyable. At several points along the route, I encountered slick ice and snow (particularly along steep, stone steps). I saw a lot of folks slipping and sliding and crawling along—some enjoying it more than others. But with microspikes, ascending was a breeze.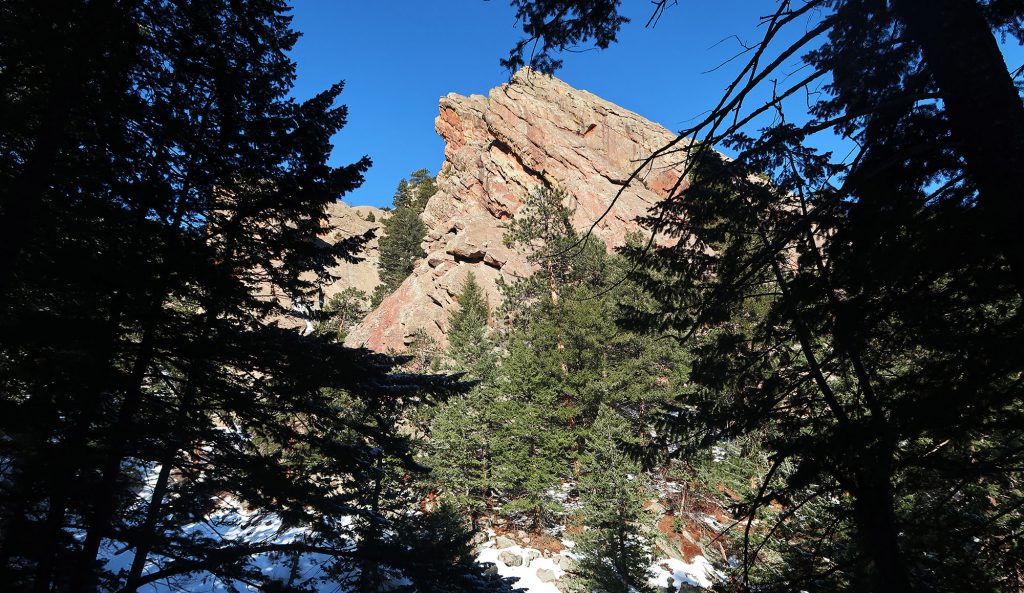 Royal Views
After a steady ascent amongst the trees, the trail dipped down along more rugged, rocky terrain. I saw a few adorable pups scrambling about, negotiating the rocks and steeper slopes. This portion of the hike finally featured some wide-open views of Boulder and the broader Front Range communities. I saw the University of Colorado campus, with its myriad, matching terra cotta roofs.
Then finally, I reached the arch itself. Royal Arch is a bit of a geological anomaly on this side of the state. Its chunky form, comprised of hardened sandstone, struck me as quite distinct from the soft sandstone arches of far Western Colorado and Southeastern Utah. I considered it an excellent payoff for this brief but steep ascent.