October 2, 2022
Geography 101
I was a long way from home. 7,879 miles, to be exact. Strange stars covered the sky as I drove along the darkened lake shores. Before too long, I arrived at a small dirt parking area for the Isthmus Peak Track.
Isthmus Peak sits between Lake Wānaka and Hāwea, on New Zealand's stunning (and, mostly, sparsely populated) South Island. An "isthmus" denotes a narrow strip of land connecting two larger land masses and separating two bodies of water. It is the opposite of a straight. Panama provides perhaps the most famous example.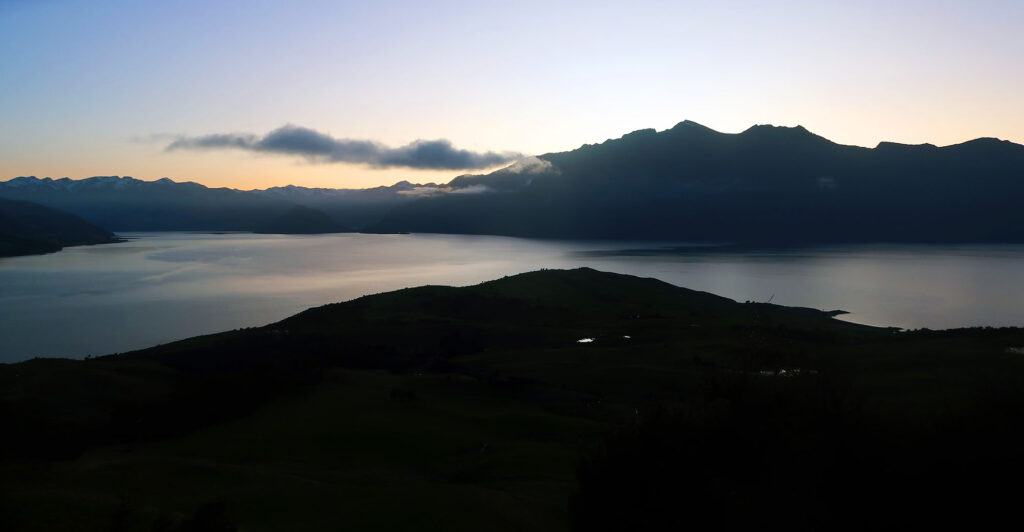 Isthmus Peak sits on the northern end of a small mountain range separating Wānaka and Hāwea. The lakes rank as the fourth and ninth largest in New Zealand, respectively. The range would form a peninsula if not for the small, low-lying spit of land just north of the peak, known as "The Neck". This tiny land bridge measures almost precisely a mile in thickness. Then more mountains continue north.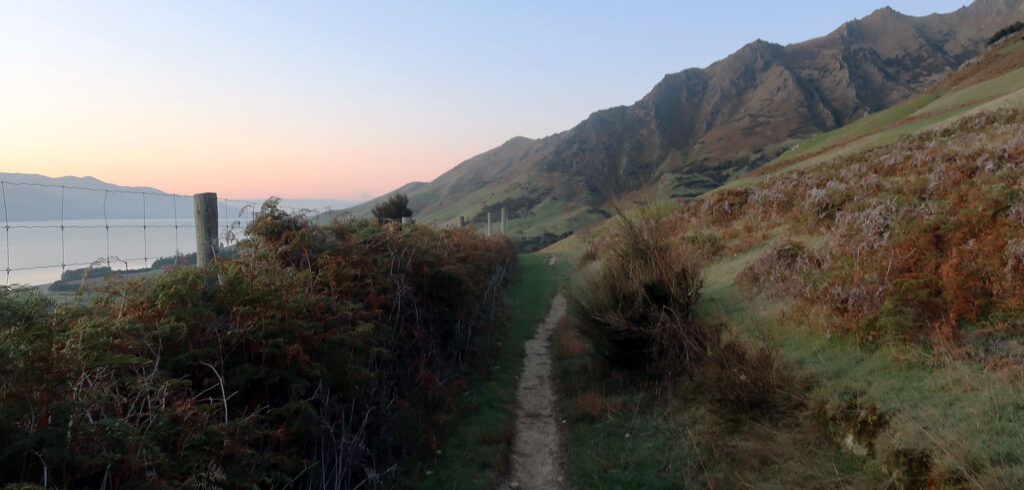 Through farmland
New Zealanders seem to take their hiking very seriously. And when researching hikes on the South Island, I came across a ton of multi-day treks to remote backcountry huts. But I arrived at the start of October: shoulder season. Which meant most of those routes still contained a lot of snow. Luckily Isthmus Peak presented a solid day hike alternative that stayed well below the tallest, snow-capped peaks.
But don't let that dry, "day hike" status fool you. This hike involves a serious amount of vertical gain and mileage. I ascended roughly 3,700 vertical feet to its summit. And round-trip it clocked in at nearly 10 miles (15.6 km). This is respectable, even by Coloradan standards.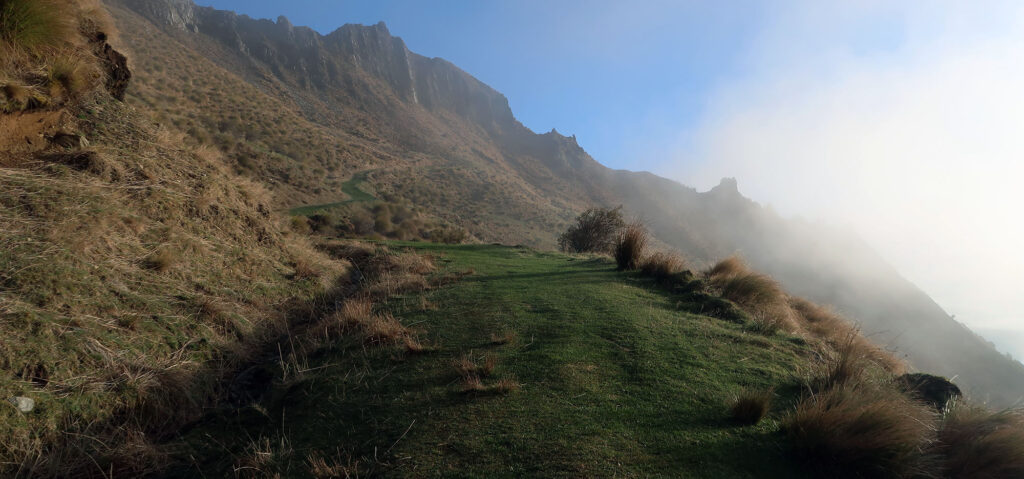 The trail began under scrubby tree cover. It ducked in and out of the woods, along fencing, and into steep sloping farmland. As the sun rose higher I saw cows and herds of deer. New Zealanders farm deer, which I find both hilarious and terrifying. Do they know what a nuisance deer can be, unchecked? Have they seen Jurassic Park? Nature finds a way.
Much of the mileage on these lower slopes arises from the need to avoid private property. For instance, a delightful but long stretch of single track rolls up and down ridges in the hillside along a fence for probably a half mile. It was fun on the way out, but a bit of a chore on the descent.
Towards the ridgeline
I pushed higher, encountering a handful of other hiking parties (mostly pairs). The Isthmus Peak Track likely ranks as Wānaka's second-most-popular day hike, after the virally popular Roys Peak Track. But from what I've read the amount of foot traffic on this peak is a tiny fraction of that popular photo-op summit.
Both peaks have seasonal closures, but luckily they are staggered. When I was in town (early October) Roys had closed for "lambing" season. Which sounds insanely adorable. For a month in November/December, Isthmus Peak Track will close for "fawning". Also adorable.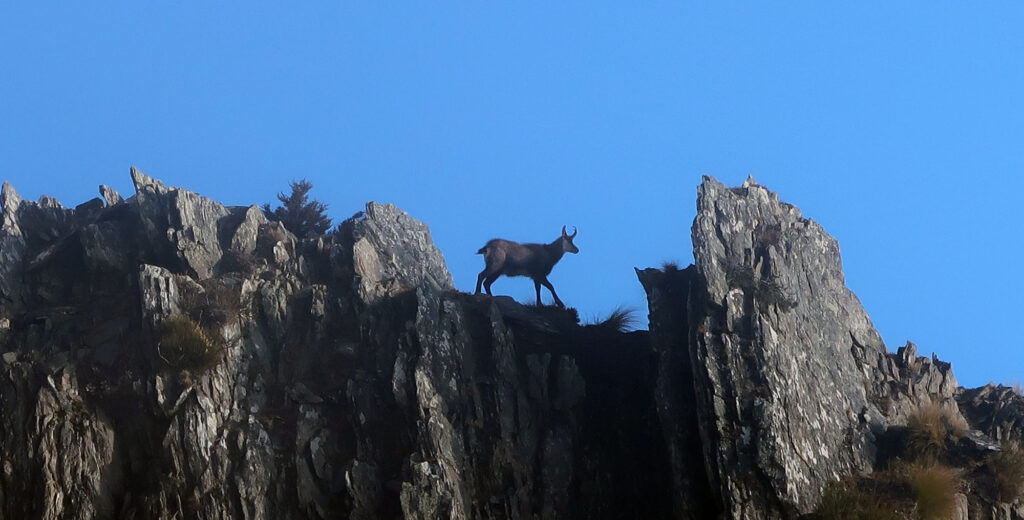 I spotted some creatures that looked like goats on the rocks above the track. They were almost certainly goats, but being in the wrong hemisphere, I don't want to assume.
By now, a cloud layer had begun to grow off Lake Hāwea and rise up the western flank of the mountains. I grew worried these clouds would severely impair my summit views. Finally, I reached a point where the switchbacks ended and the track meandered back towards the high ridgeline.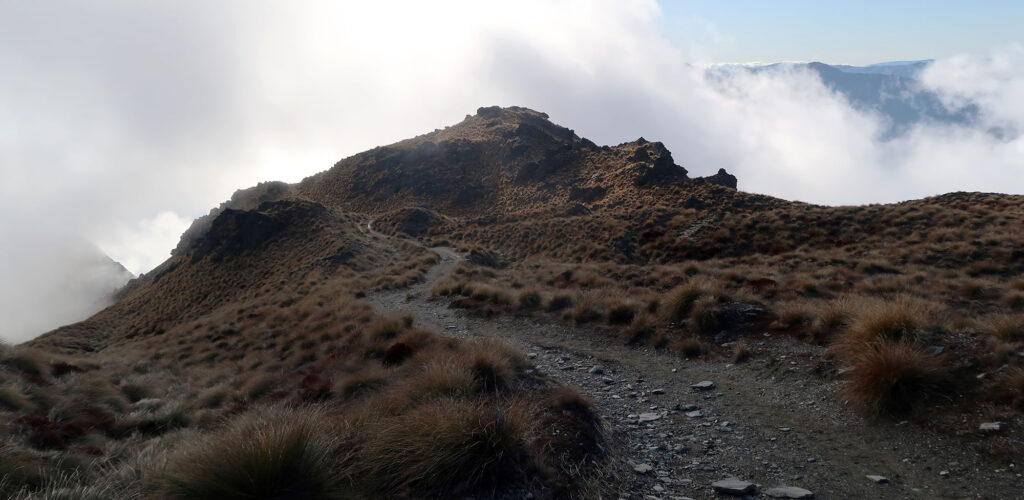 Onward to the Isthmus Peak Track's summit
The track meandered through a scrubby hillside that reminded me vaguely of the Kingdom of Rohan from the Lord of the Rings. A lot of New Zealand reminded me of the Lord of the Rings. Six films and a spectacularly expensive TV series have all been shot in New Zealand and passed off as "Middle Earth".
The views, already spectacular to the West and North, began to open up to the East. I saw tall, snow-capped peaks within Mount Aspiring National Park. I knew these summits lay across Lake Wānaka,. But that lake had yet to come into view.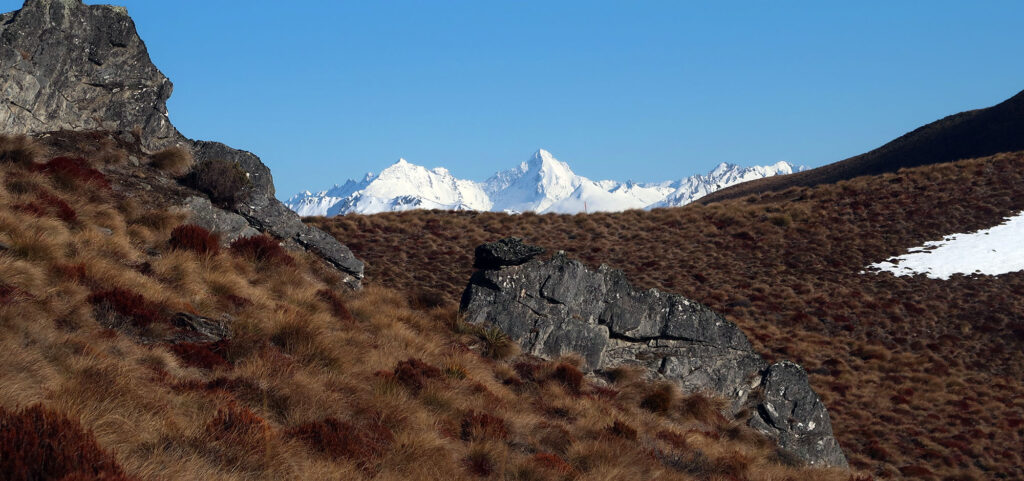 I reached a fork in the track. Hikers and trail runners can amble for many miles to the south along this mountain ridge between the two lakes. But Isthmus Peak lies to the north. So I turned right.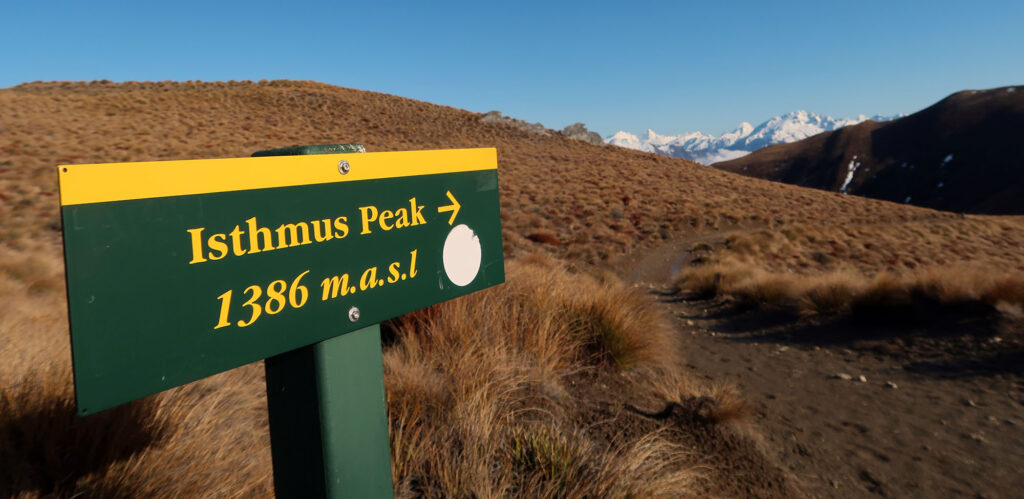 Isthmus Peak
I finally reached the summit. The grassy peak sported 360-degree views. But mine were more like 180 degrees. The morning clouds off the lake blocked views of Lake Hāwea and points East. But the scene proved spectacular, nonetheless.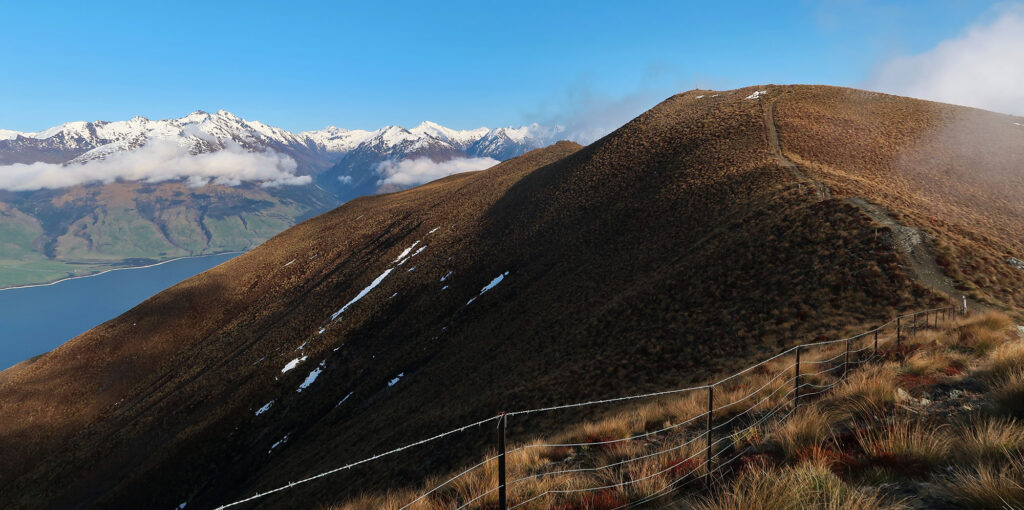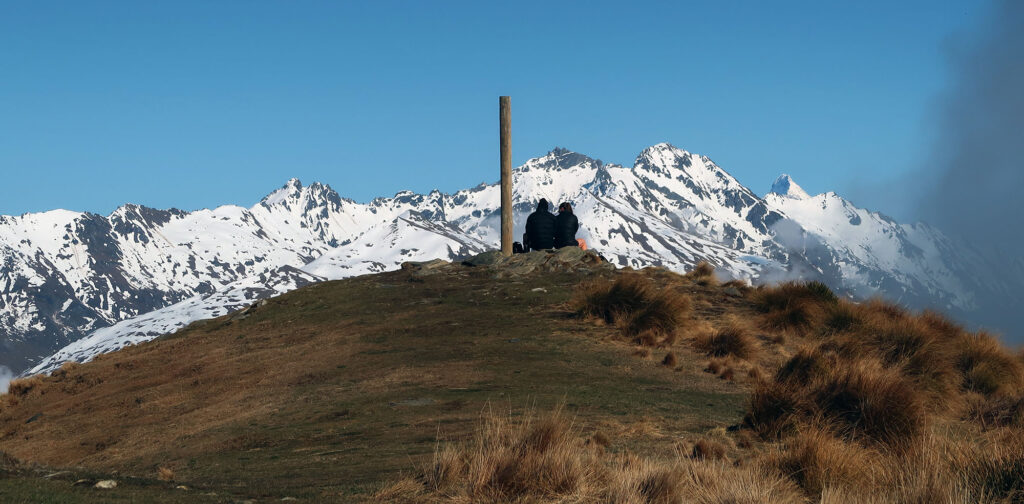 Across the Valley, I noticed similar lake-adjacent clouds on mountains forming the Western boundary of Lake Wānaka. I'd hazard a guess these are a common occurrence at sunrise throughout the large lakes near the Southern Alps. It was a slight bummer they prevented me from seeing both lakes simultaneously. But I got to see plenty of Hāwea from lower down on the trail.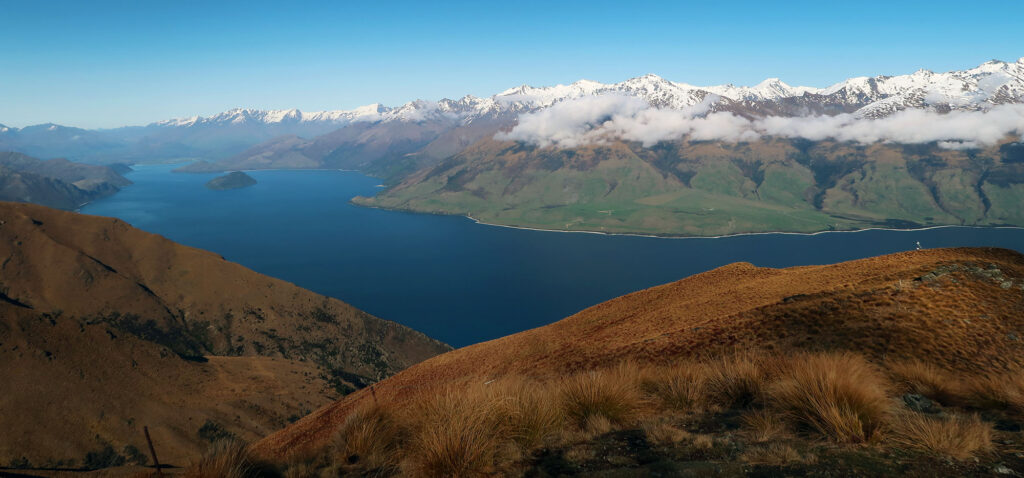 There and back again
I relaxed on the summit for perhaps 30 minutes. Mountains to the north came in and out of view as the clouds lifted and re-formed. Then it was time to do everything in reverse.
I saw perhaps a dozen groups of hikers that day. Not very crowded at all. The folks who started many hours later would likely enjoy views unencumbered by morning clouds. But I really couldn't complain. Overall the weather was spectacular on an island known for its share of mercurial storm systems.
Before long, I had arrived below the clouds and back to the lush rolling farmland on the lower slopes. The whole journey came to an end just in time for a late lunch down the valley.