May 18, 2022
Arrival and ascent
I drove into the Lake Myvatn area of northeast Iceland on a moody, mid-May morning. After touring some belching, sulfurous thermal vents, I headed over to Hverfjall Crater for the day's only 'proper hike'.
A short and relatively smooth gravel road led to the trailhead, which featured bathrooms and paved parking. In short order, I began the relatively quick ascent to the crater rim.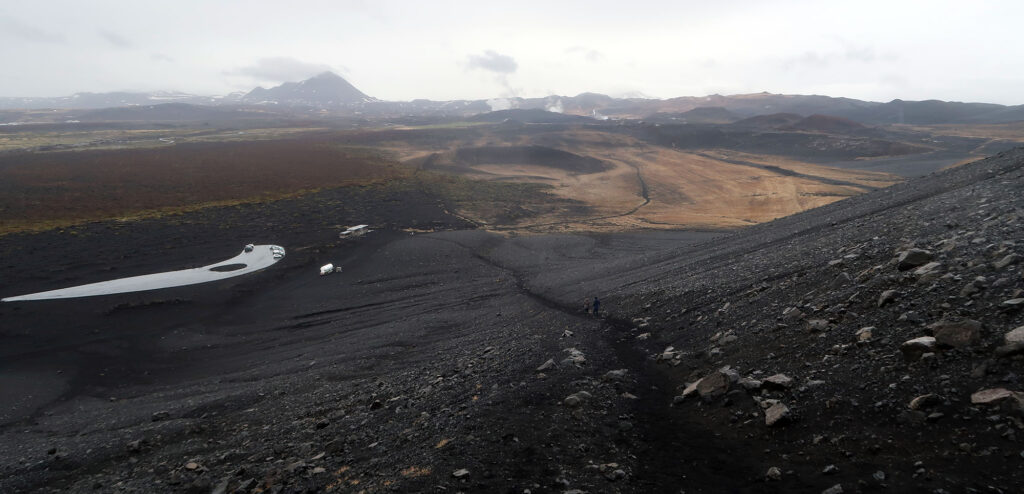 The ascent towards the crater rim ascends roughly 300 vertical feet over roughly a half mile. En route, you get treated to increasingly commanding views of Lake Myvatn and its volcanic surrounds.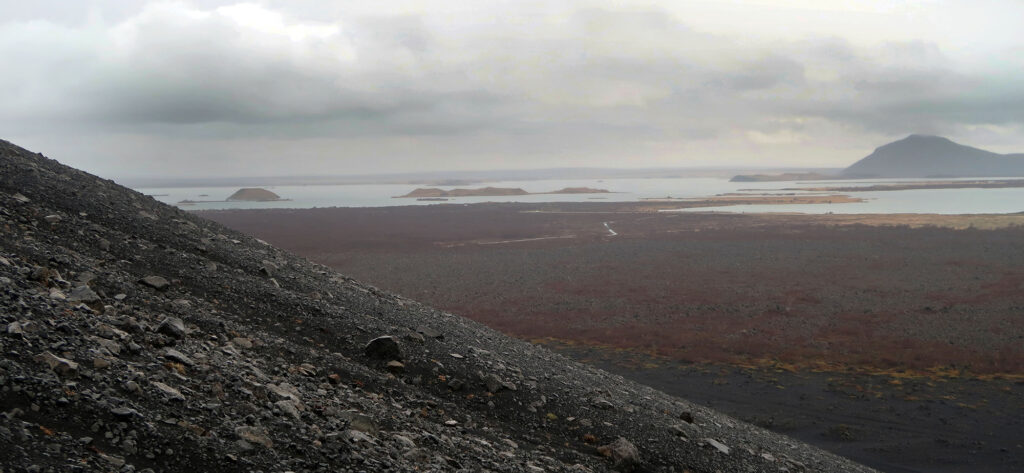 Hverfjall Crater
In short order (~20 minutes) I reached the crater rim. I gazed down into the crater's deep interior, devoid of any trees or large plants. Hverfjall is a "tephra cone" or "tuff ring" volcano, both of which seem vaguely related to cinder cone volcanoes. The landscape seemed entirely composed of small black volcanic rocks, piled up from an ancient eruption. At roughly 1km in diameter, Hverfjall ranks among the largest such volcanoes in the world.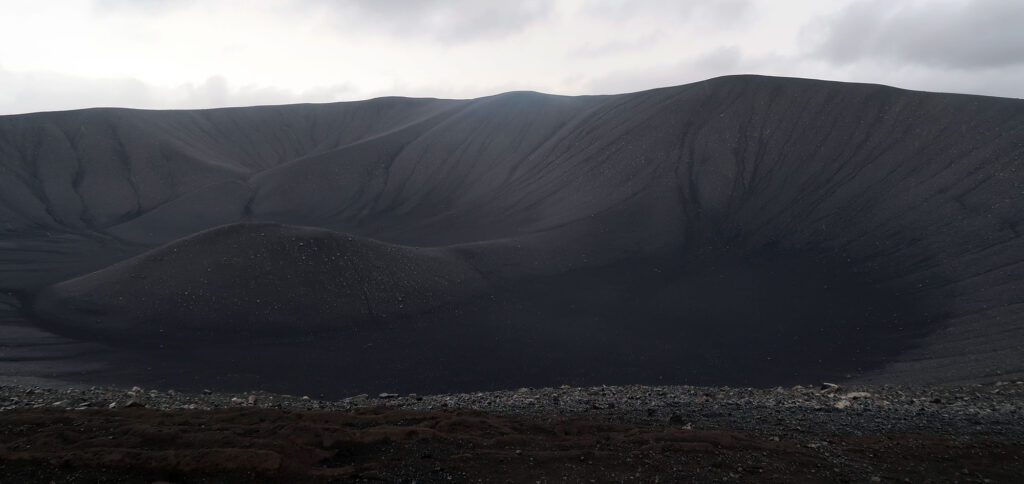 After soaking in the view, I began hiking around the rim. The trail ascended another 200 vertical feet towards one of two quasi-summits. Circumnavigating the crater involves 2 miles in total of hiking. Low, overcast skies hung over the whole region, and it drizzled on and off. I saw a family with kids in bright red rain jackets, having a blast. Across the depths, I saw a couple of other solo hikers. But mostly, the landscape felt deserted.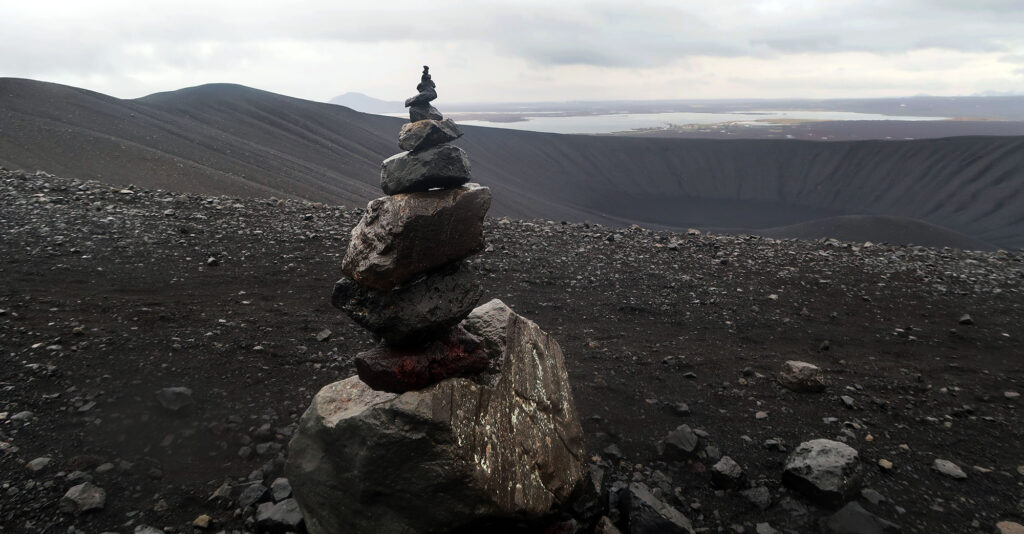 Where North America and Europe split apart
The mid-Atlantic rift runs from the arctic, down beneath the Cape of Good Hope in South Africa. In the north-Atlantic, this not-so-imaginary line denotes where the North American and European continental plates diverge from each other. Iceland formed above a particularly leaky portion of this rift, where lava continually bubbles upwards onto the expanding island.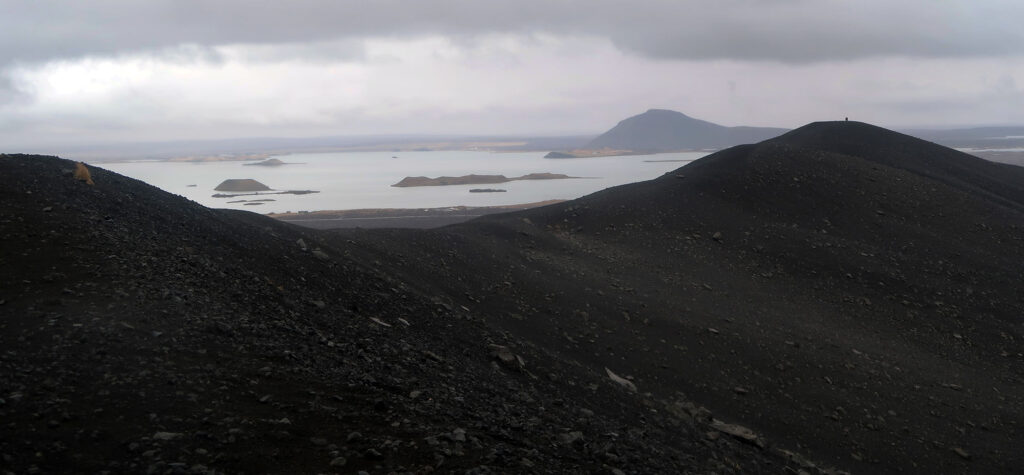 Iceland represents the only above-sea-level portion of the mid-Atlantic rift. And the Icelandic hotspot ranks among the most volcanically active places on Earth. You can find signs of volcanism throughout the island. But in the Lake Myvatn area, directly above the rift, the volcanic legacy is truly on full display.
Hverfjall itself forms one very obvious legacy of past activity. But from the rim hike, I could see numerous other cinder-cone-style volcanoes. I could likewise see steam venting from nearby hot springs and thermal pools.
Having successfully circled the rim, and descended back towards the car park. The whole affair clocked in at just under 3 miles with 690′ of gross vertical. And that meant I had earned a soak at the nearby hot spring pools!