June 18, 2023
Hiking 'On Resort' at Beaver Creek
Around 7 am, I wound my way up Village Road toward Beaver Creek's upscale village complex en route to hike the Overlook Trail. The morning sun flickered through stands of quaking aspens and cast long shadows across the lush golf course. In winter I'd of parked a few miles downhill, in one of Beaver Creek's $10 day-skier lots. But in summer, the far more convenient Ford Hall Lot is free and open to all.
You may wonder: why bother hiking at a ski resort in summer? Colorado is lousy with mountains free and open to the public. And most of them don't involve parking garages, service roads, or overpriced gift shops.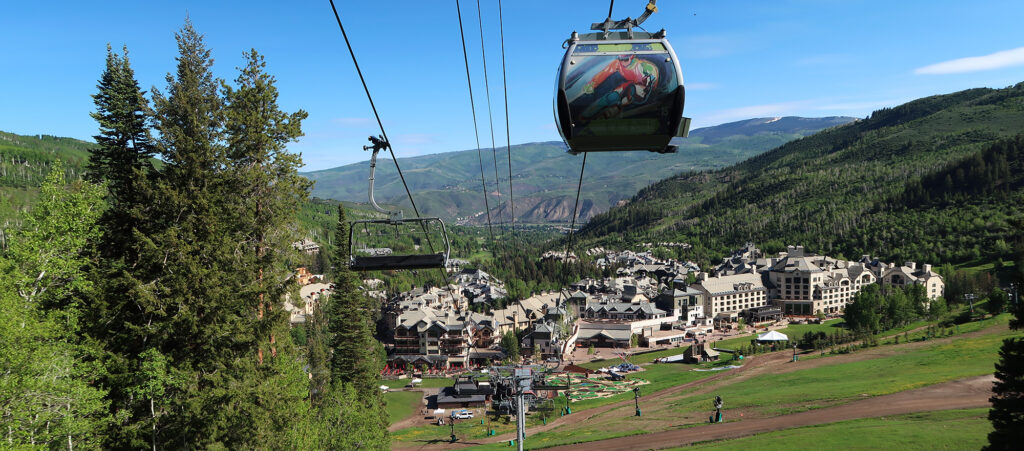 But even as someone who spends loads of time in "the backcountry" I still highly recommend hiking "on resort". From my experience:
The trails tend to be in excellent shape. Expect minimal erosion, a well-built tread, and no blowdown.
Thoughtful trail design typically includes gentle switchbacks through thick stands of trees, interspersed with wide open views as the tread crosses grassy ski slopes.
Crowds are minimal. Unlike bucket list hikes around the state, resort-maintained trails tend to be overlooked.
They have chairlifts! And gondolas. These wonderful machines can deliver you high into the mountains, so you can enjoy dramatic views with less effort. For folks interested in a healthy workout, these lifts can help you avoid down hiking, which tends to be hard on the knees.
The base areas feature restaurants, shopping, beautiful landscaping, and often live music. Though for folks looking to save money, this cuts both ways.
The Overlook Trail
I rode a pair of escalators up from the parking structure to the top of the village. In place of snow and ski racks, I found rolling hills of grass and wildflowers. I followed signs for the "Village Loop" trail, which would lead to the Overlook Trail.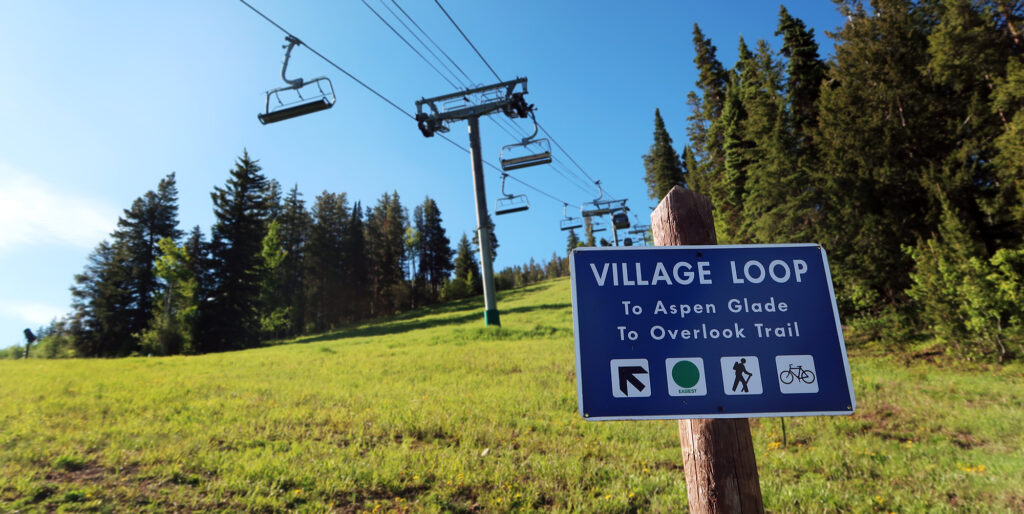 Beaver Creek maintains a sprawling network of hiking and biking trails across the majority of their 5.5-mile footprint. Some of these trails, like the excellent Beaver Lake Trail, pass beyond the borders of the ski resort, onto other forest service and wilderness land. You can consult their summer trail map, which assigns difficulty ratings similar to skiing.
The Overlook Trail ranks "intermediate" difficulty, rising roughly 2150 vertical feet over 3 miles. It stays within the relative vicinity of the Centennial Lift (though out of sight a majority of the time). And this makes it a relatively direct and robust way to ascend to the mid-mountain lodge.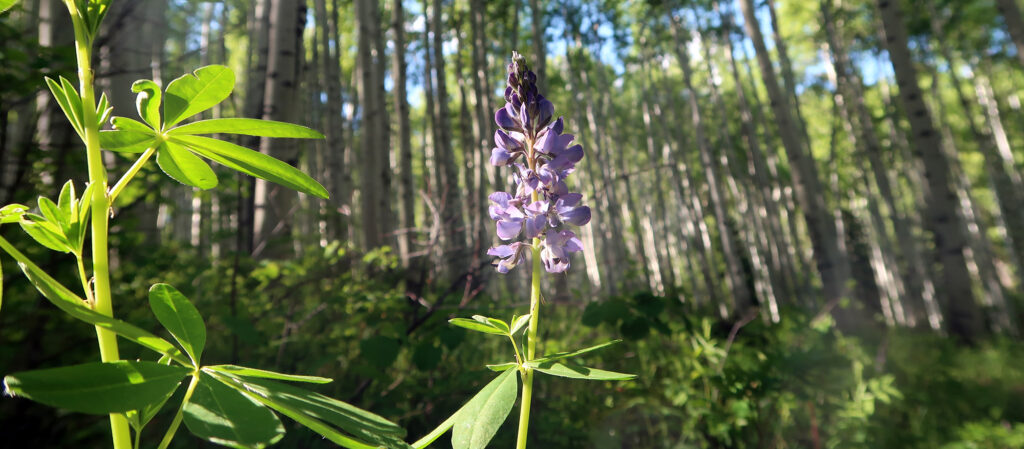 The trail began up the steep lower slopes above the village. And soon it ducked into the woods via a set of gentle switchbacks. The trail runs from roughly 8000′ to 10,000′ meaning you'll find a nice mix of evergreens and quaking aspens en route. Soon I was passing through some of the resort's famed aspen groves.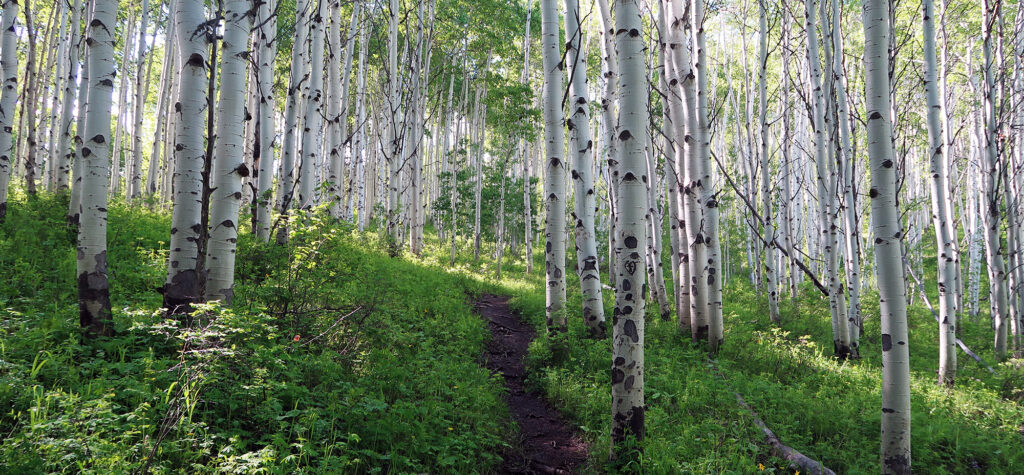 Wildlife in the White River National Forest
Beaver Creek largely sits on national forest land: The White River National Forest. In fact, a majority of Colorado's largest and most storied resorts all sit in the White River National Forest (including Aspen/Snowmass, Vail, Breckenridge, and Arapahoe Basin, among others).
Despite being an intensive-use area, these resorts nevertheless see an amazing array of Colorado wildlife. I've seen deer, bears, moose, coyotes, elk, and goats within the resorts. On this day, many folks who ascended the chairlift said they spotted a moose beneath. For my hike, however, I mostly saw squirrels and other smaller critters.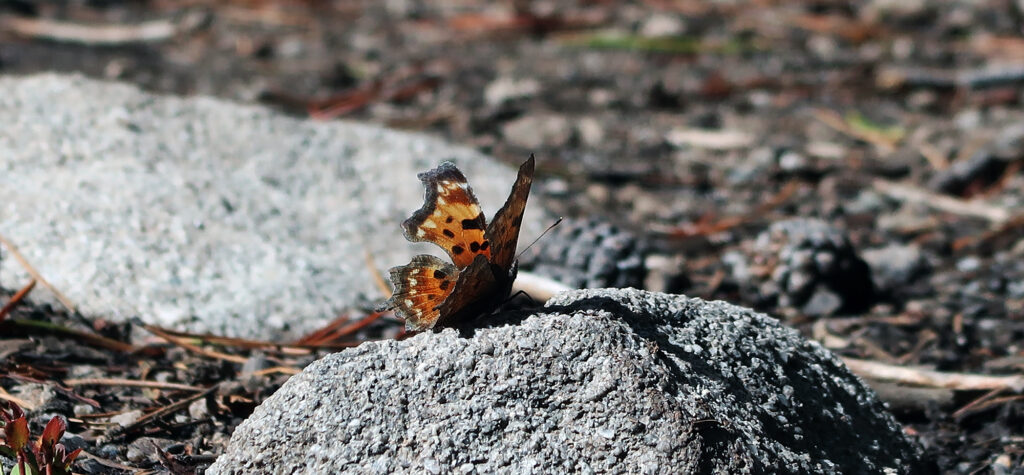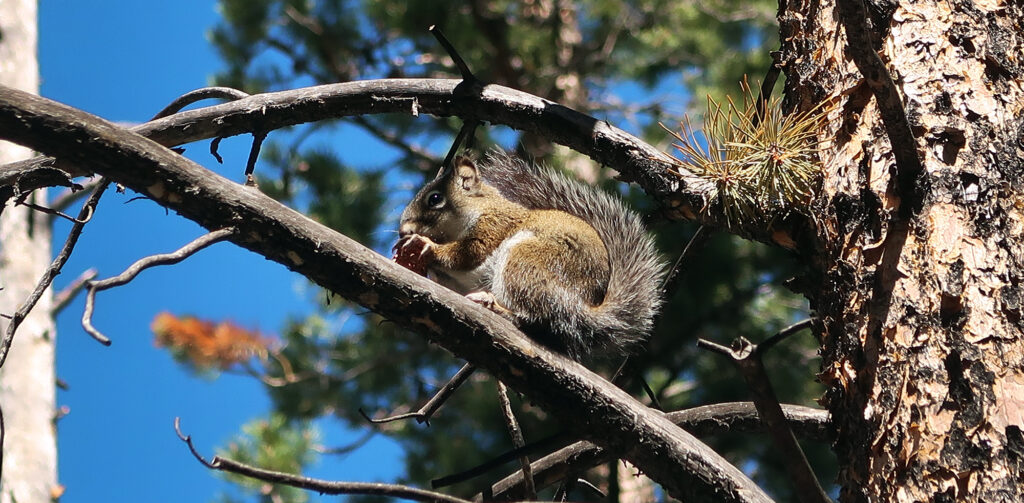 And as the trail rose higher, the views likewise opened up. Across the Vail Valley, and to the East, I saw the rugged Gore Range slowly grow above the ridgelines. After a snowy winter, many of its steeper slopes still sported snowy couloirs and cornices.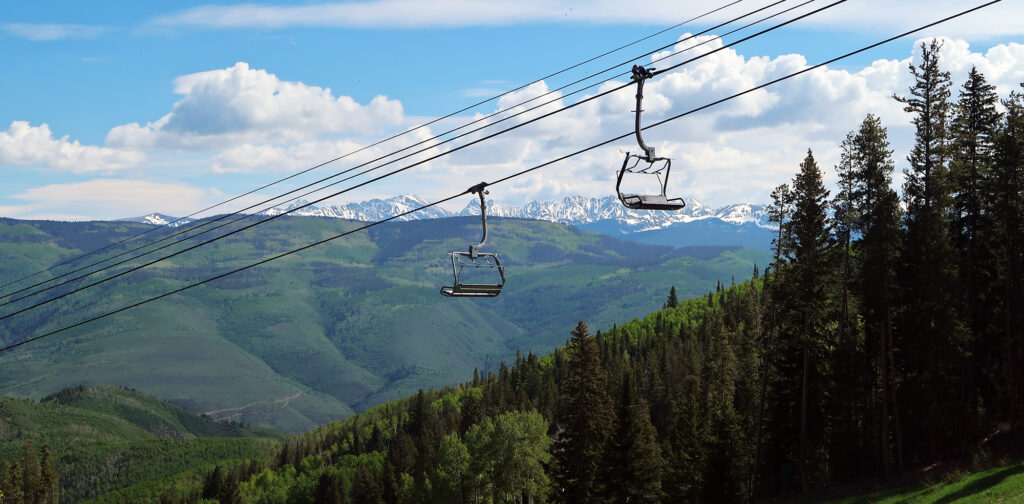 The "Overlook" on the Overlook Trail
Before reaching the steeper "upper horseshoe" area of Beaver Creek's front side, the overlook trail veers off to the west, through wooded glades. Here it makes its way to the eponymous "overlook"… a rocky ridgeline with sheer drops down towards the "talons" area of the resort.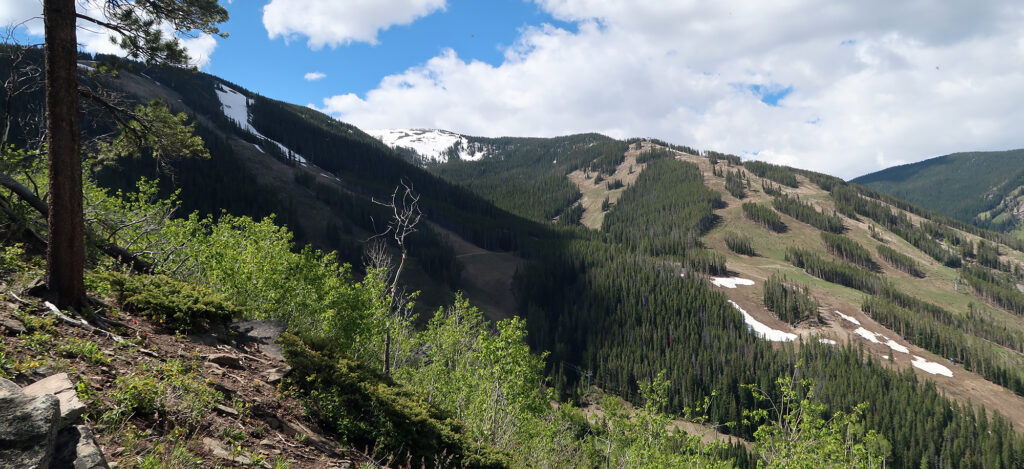 Here I saw sweeping views of the "talons"—the Birds of Prey, Grouse Mountain and Larkspur Bowl areas. Birds of Prey in particular featured lingering snowpack. The steep, northwestern-exposure Golden Eagle Trail receives copious amounts of snowmaking in the Fall, ahead of the Worldcup Downhill race. And this mean's its headwall is often the last spot on the resort to fully melt out.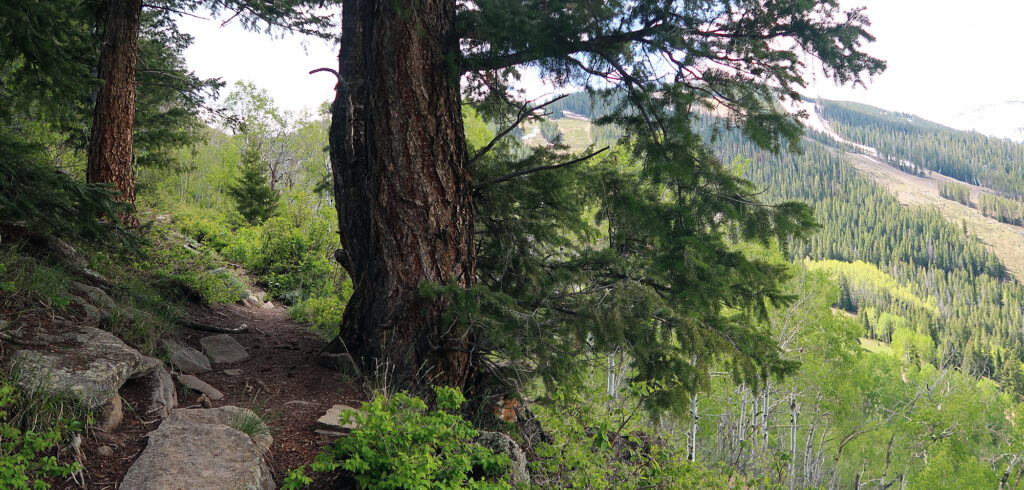 I powered up this "final push" while soaking in the views. My original weekend plans involved a much more ambitious overnight backpack into the Maroon Bells-Snowmass Wilderness Area. After some car trouble, I decided to take my massive backpack up this route as a conditioning hike. And so I was carrying about 40 lbs on my back.
Spruce Saddle
Near the top of Centennial, the Overlook Trail merged with the Royal Elk Trail. And soon after I reached Spruce Saddle, the mid-mountain lodge. In summer it feels a bit like a country club, with families enjoying lunch and playing cornhole in the grass.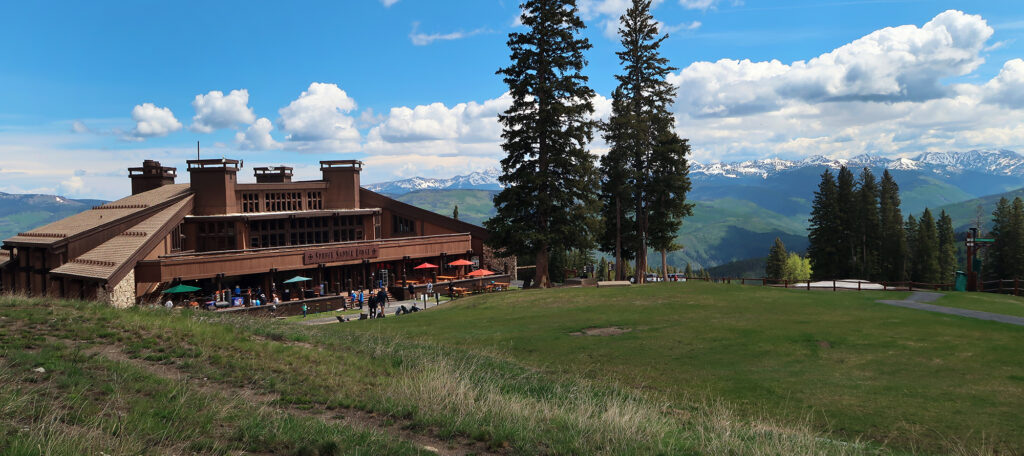 My original plan involved riding the Centennial lift back to the village. Unfortunately, it was mysteriously closed when I arrived. I grabbed lunch and a drink and waited perhaps an hour or 90 minutes. There was a whole set of morning riders "stranded" along with me at Spruce Saddle. I chatted with the lift staff and they said it could be a while. They would only tell me there was a medical crew at the base. But given how long a delay we had, that could only mean one thing: someone passed away on or near the lift. Likely a heart attack.
Descending Cinch
Realizing this could take a while, I started down on foot. I took the "Cinch" trail, really a work road that doubles as a beginner ski trail in winter. Cinch is one of several "mixed-use" summer trails, meaning you share it with mountain bikers. The Overlook trail is purely for hiking.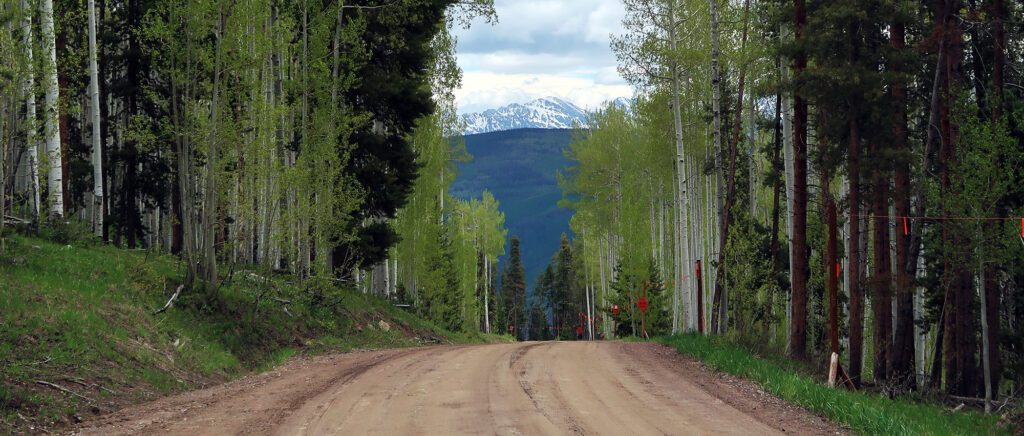 While this trail covers more mileage, I made fast work of it. The road descended at a very gentle grade. While summer work roads can be very loose and slippery, I found this one in excellent shape.
Towards the bottom, I came upon a paddock with horses and ponies. Beaver Creek apparently has quite an array of summer activities.