June 4, 2021
Hiking Aspen Mountain
Aspen, Colorado needs no introduction. But here it is anyways: a former mining town turned real-estate powerhouse, home to four world-class ski areas. Folks can and do spend entire weeks in Aspen simply shopping and dining and relaxing by glitzy hotel pools. But the outdoor recreation opportunities here are just as jaw-dropping as the nightly hotel rates.
There are a lot of hikes in the Aspen area more scenic than the Ute Trail. But none are more convenient. The trailhead lies just east of downtown, and on most days you can download the gondola for free, saving your knees from 3000 vertical feet of steep descents.
As of this hike, I could have told you about cheap lodging tricks in Aspen. I've stayed in some very reasonable hostel-style lodgings in Aspen during peak season for just over $100 a night. Sadly, when the travel floodgates opened in 2021 post-COVID, those prices more or less doubled. There are still some deals to be had in "shoulder season" (post-foliage/pre-skiing, and post-skiing in 'mud season'). But otherwise, your best bet might be nearby camping options. What happens longer term is anyone's guess.
Ascending Ajax on the Ute Trail
Do not underestimate the Ute Trail! While both convenient and super popular, the stats belie a serious, strenuous ascent. The trail runs just under 3 miles, covering a distance of 2 miles as the crow flies. But its vertical rise packs the real punch, rising 3200 vertical feet from town to 'summit'.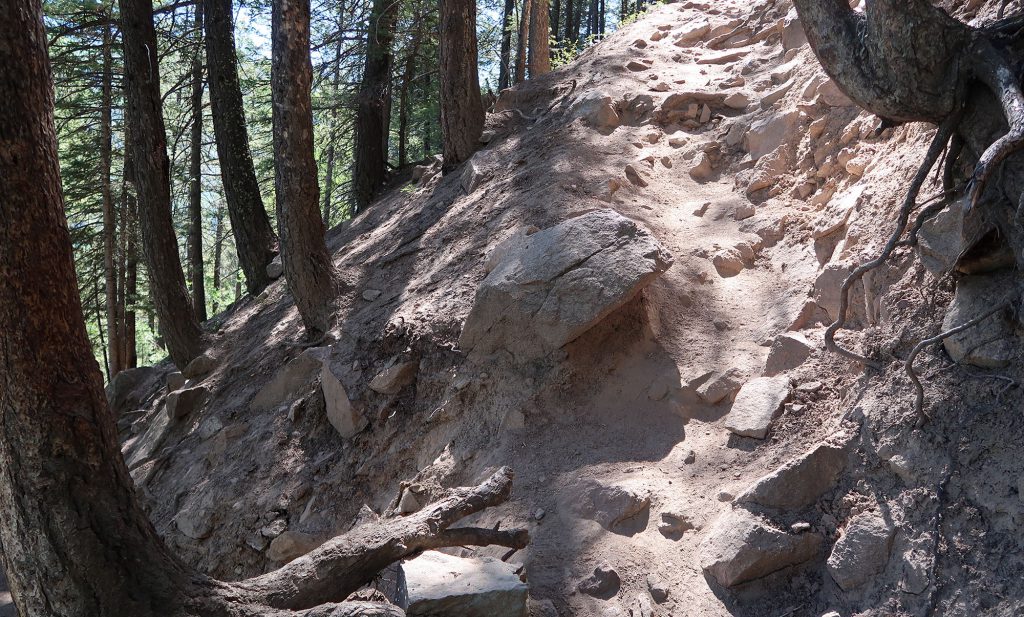 The trail proves challenging and fun to ascend. It covers the full vertical rise of the Aspen Mountain ski area, affectionately nicknamed "Ajax". Chairlifts can bring you to the top in a matter of minutes. But this hike takes roughly three hours (one way) for your average casual hiker. Descending is a lot less fun. Luckily a free download on the Silver Queen Gondola can solve that problem.
Switchbacks to Ute Rock
You can roughly break the trail into thirds. Part One ascends an extremely steep, forested slope outside the ski area boundary to Ute Rock. It does so via a series of switchbacks through the woods. I found this trail rocky and severely eroded from heavy use. The trail runs narrow, and a fall down the steep slopes would prove … unpleasant. That said, just take your time and go step by step and things should work out just fine.
This section lasts just 0.8 miles (16 city blocks) but rises a hefty 1,100 vertical feet. That's nearly the journey to the 102nd-floor observatory of the Empire State Building. As a reward, you're treated to sweeping views of the town of Aspen from "Ute Rock".
Ute rock provides an excellent payoff for this first third of the hike. And if you're feeling pooped at this point, you can turn around and head back to town feeling proud to have ascended 1000 feet at a high altitude.
I staid perhaps 15 minutes to soak in the ~200 degrees of views. To the West, I could see the steeper ski slopes of lower Ajax. To the East, the views stretched up the verdant valley of the Roaring Fork towards Independence Pass.
For folks in need of a longer lunch break, a nearby tree swing provides some extra entertainment. Carved into the wooden seat was the hashtag #aspenSwingProject.
Onward to Gentleman's Ridge
The second "third" of the Ute Trail ascends another 1,000 vertical feet in a roughly identical 0.8 miles of distance. But the views change entirely. Gone are steep switchbacks through thick pine forests. Instead, you ascend in a straight line up the sloped apex of Gentleman's Ridge. The dirt path parallels a ski run that provides access to some of Ajax's steepest glade skiing. Leafy aspens line the runs, providing shade in mid-morning.
I'm usually not a fan of hiking along ski trails. But the relatively gentle slope, shady tree canopy, and sweeping views all made up for that. Aspen's namesake trees were just starting to bud at these altitudes. They lent a bright green to the whole landscape.
The final push to the summit
The final third of the hike parallels the Gentleman's Ridge chairlift up to the summit of Ajax. It rises 1,100 feet in roughly a mile. If you're at Ute Rock and curious what it takes to get to the summit, just take however long that took you and double it: that's what's left.
Now the trail gets a bit more monotonous for a time. I trudged up the somewhat steep, very sunny ski slope. I counted each lift tower as a small victory. Patches of deep slushy snow pushed me towards the East, onto a work road beneath the gondola. This had better views anyways.
An empty summit on Ajax
Technically speaking, "Aspen Mountain" is not a real mountain. The ski slopes descend down the steep northern terminus of a lengthy ridgline of high alpine meadows that dips and rises towards a true summit miles to the south called "Richmond Hill".
That said, this hike still ends with some big payoffs. You'll find spectacular views to the South and West. You'll find, on most days, a gondola ready to whisk you back into town. And you'll find a summit lodge with deck chairs, food, bathrooms, and tiny bottles of champaign. This is, after all, Aspen.
Sadly for me, the gondola was closed this day for refurbishment. That proved a double-edged sword. I found no crowds that day: just two other hikers above Ute Rock and a deserted summit. But it also meant no food and no gondola back down. Fortunately I was mentally prepared for this from the start!
A slipper descent
After resting up and slathering on some sunscreen, I began the 3200 vertical foot descent towards town. I opted to switch things up and descend beneath the Ajax Chair and down towards Shadow Mountain. Aspen's trail map calls this the "Power of 1" trail, but I've seen it also labeled "Scotties".
This descent involved some steep, slippery work roads. The combination of round pebbles and loose dirt always leads me to slip and fall on my bum at least once. Again, if the gondola is running, you should strongly consider using it.
I actually loved seeing Aspen in spring. I walked alongside a draining ditch, flowing strong with spring snowmelt, under a canopy of aspens. The trail also passes several mining structures, typically hidden in winter by deep snowpack.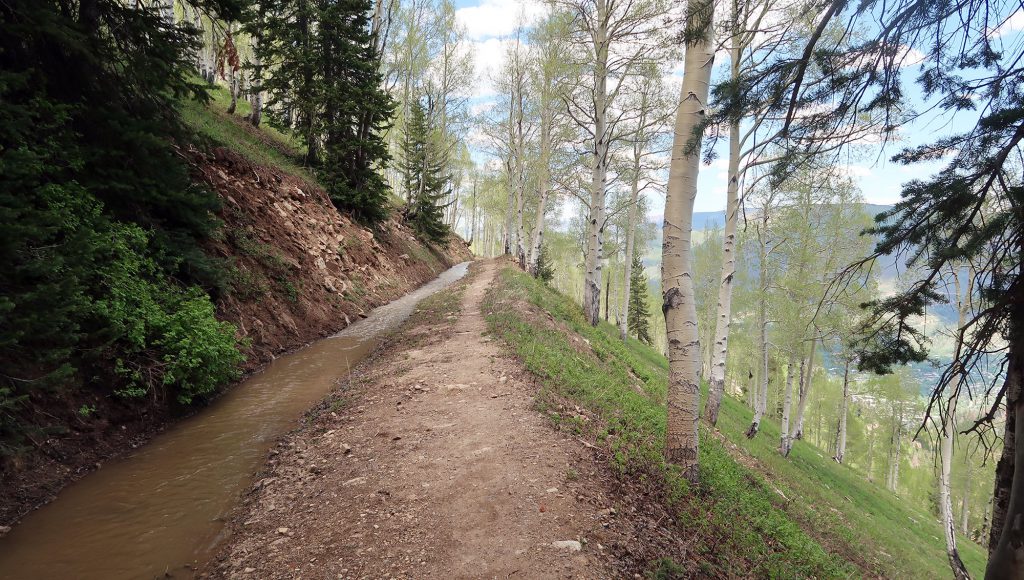 The trail also passes "Bill Zaug's Cabin" named after the last miner to live on Aspen Mountain.
While steep and rocky, the descent still sported some gorgeous scenery through open trails and aspen groves. Over all it was a great experience hiking America's most storied ski slopes.