May 6, 2020, Colorado National Monument
I parked early in the day near the Eastern entrance to Colorado National Monument. Just inside the entrance, there's a car park home to three popular hikes: the Serpent's Trail, No-Thoroughfare Canyon, and the Devil's Kitchen. Having just completed the Serpent's Trail, it was time for me to explore the latter two. Right up front, I'll give you my hot take: Serpent's Trail is an excellent workout with great views. Devil's Kitchen is short and fun to explore, especially with kids. No Thoroughfare Canyon is a bit of a trek with minimal payoff. I'd maybe skip this one if you're short on time.
No Thoroughfare Canyon
This trail wanders back into the southernmost of the park's many small canyons, towards a modest waterfall. It actually gains nearly as much vertical as the Serpent's Trail (roughly 800 feet). But I had no idea at the time since it's in the center of the canyon and rises very gradually over nearly three miles.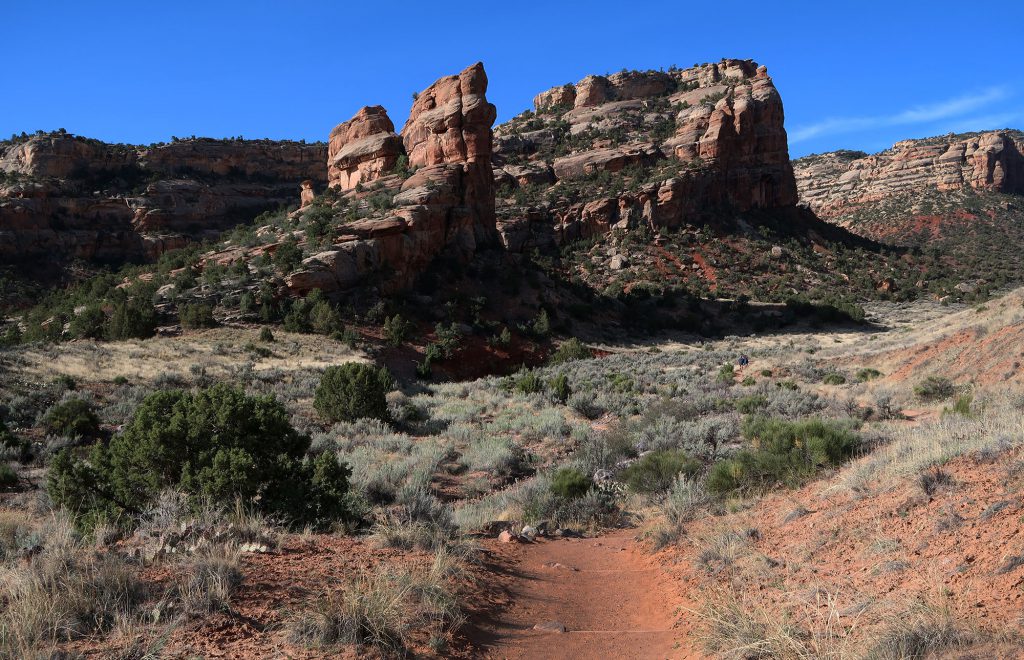 I definitely recommend taking this hike either in a colder month or early in the day! I began this route around 9 am and it was already getting rather not and sun-baked!
In early May, the center of the Canyon featured a small stream with mostly stagnant water. The trail follows this stream closely. Probably the coolest part of this hike is observing how dramatically the flora changes along the stream versus in the broader canyon and mesas. Lush, bug-laden bushes hewed close to its trickling waters. Occasionally, a large deciduous tree would spring up right from the center of the creek bed. No other similar vegetation was visible elsewhere in the park.
Desert Oases within the Canyon
Halfway out to the "first waterfall" I came to the "first pool". Even in May, this modest pool was fed by just a trickle of water. I found it strangely beautiful how the landscape seemed to treat even this small amount of freshwater with such reverence. The water- and wind-carved rock seemed to cradle the small pool protectively.
The trail climbed over this formation along some stone steps. It continued perhaps another mile to the "first waterfall" where the well-traveled path ended. The "waterfall" was again little more than a trickle. Moss and lichen and small plants nonetheless thrived in its immediate vicinity. Even this small bit of mist shade proved sufficient for a remote outpost of greenery.
I turned around and headed back out of the Canyon towards the car park. The sun was now higher in the sky and I was already feeling rather tired. I definitely recommend bringing a good hat and ample water on this trek!