August 27, 2021
Thousands of years of history
Mesa Verde National Park features a unique blend of stunning scenery and over a thousand years of archeological treasures. Ancestral Puebloan people built elaborate cliff dwellings on this high cuesta just beyond the Rocky Mountains.
My time at Mesa Verde mostly featured some guided tours of these famous cliff dwellings and self-guided tours of various other archeological sites. But that started to feel like a lot of reading and slowly strolling. I needed a good old-fashioned hike.
The petroglyph point trail provided exactly that. The trail follows a 2.5-mile loop along the edge of Spruce Canyon: one of Mesa Verde's many rugged canyons. It leads from a main park museum/visitor center to a cliff face riddled with many ancient petroglyphs.
Petroglyph Point
I took the loop in the direction where you first descend mid-way down the canyon wall. This segment winds in and out of small alcoves in the canyon. The trail travels under decent tree cover and foliage providing a bit of shade. The path leads over a few ledges and scrambly bits. But overall this trail proves safe and fun for the whole family.
After 30 minutes to an hour, you arrive at the cliff face with petroglyphs. Ancestral Puebloans carved these funky figures into a big patch of desert varnish hundreds of years ago.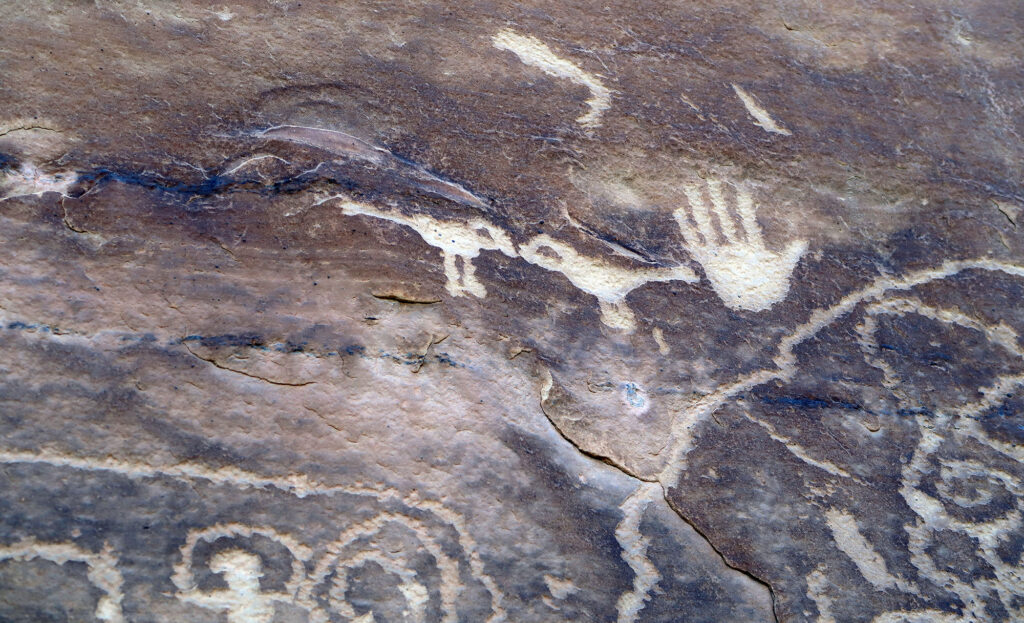 Back along the rim
The trail works best as a loop. After the petroglyphs, it climbs up to the canyon rim (the entire trip involves rough 350 feet of vertical ascent). The trip back involved way more direct sun. But it also afforded sweeping views of the broader mesa.
Eventually, you arrive back at the Chapin Mesa visitor center/museum. The trail passes right along an upper viewpoint for Spruce Tree House. The park claims this major cliff dwelling is the "best-preserved" in Mesa Verde.